We're zeroing in on the Jan. 6 reveal of the BBWAA 2016 Hall of Fame class, one certain to include Ken Griffey Jr. and maybe another player or two. As we lead up to the announcement, CBS Sports' Eye on Baseball scribes are running through the serious candidates one day at a time.
More HOF: One-and-dones | Kendall | Griffey | Hoffman | Edmonds | Wagner | Trammell | Smith | Garciaparra | McGwire | Sosa | Clemens | Bonds | Schilling | Martinez | Mussina | Walker | McGriff
Gary Sheffield hit 509 home runs for his career and posted a batting line of .292/.393/.514, which translates to the 76th-best OPS+ in major-league history. He's 28th in history in times on base, 31st in total bases, 17th in win probability added and 35th in offensive WAR (via Baseball Reference). As far as hitters go, not many have been better than Sheffield.
And yet, Hall of Fame voters have not been impressed collectively. Sheffield received 11.7 percent of the vote in 2015, and is running at 8.1 percent in the most recent Ryan Thibs poll for 2016. His polling performance would be good enough to stay above the 5 percent threshold required to keep him on the ballot for next season, but it bodes poorly for Sheffield ever making it to Cooperstown. It would take a dramatic shift in thinking over the next eight-plus years to get him elected.
Why won't Sheffield make it?
His association with BALCO

Sheffield admitted to Sports Illustrated in 2004 that he had used a substabce known as "the cream" in 2002. Sheffield claimed he didn't know at the time it was a PED. Here's what MLB said about Sheffield's admission:
Rob Manfred, executive vice president of labor relations for Major League Baseball, called Sheffield's comments "a concern" but said the player faces no repercussions because the purported steroid use occurred before baseball started its testing program.

"The more important issue is what are people doing today," Manfred said. "That's why we have testing."
Regardless, it's clear that some voters hold it against Sheffield, either from the standpoint that "cheating is cheating," or they don't believe the 2002 instance was the only time Sheffield used PEDs. Sheffield's admission brought his entire career into question in the minds of some. If Barry Bonds isn't going to get into Cooperstown because of PEDs, Gary Sheffield sure as heck isn't going.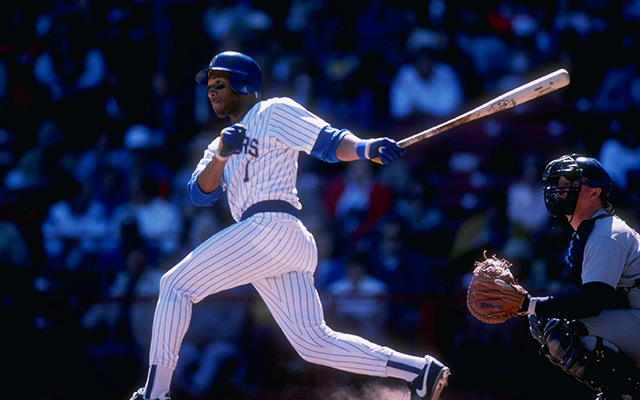 His defense

It also would be easier to defend Sheffield's accomplishments had his career not been so one-sided. Sheffield was a poor defensive player. He debuted in the major leagues in September 1988, when he was just 19 years old and barely two years removed from the MLB draft. He played shortstop for the first 28 games of his career with the Milwaukee Brewers, moved to third base for parts of six seasons, and didn't transition to right field until his first full season with his third team, the Florida Marlins, in 1994. Though he showed an aptitude for hitting beginning in 1992 -- when he finished third in NL MVP voting -- Sheffield never fielded well at any of the positions he tried, accumulating negative ratings season after season.
His bad reputation

Those early days were rough on Sheffield's reputation, as well. Bringing him to the majors as a teen probably was a mistake, in retrospect, and putting him at shortstop after Dale Sveum had broken his leg probably was too. Sheffield had made 87 errors at short in parts of three seasons in the minors to begin his career, though he was better with the Brewers in his '88 call-up.
Brew Crew Ball chronicled what happened in Milwaukee from there:
He was sent down to the minors in July of 1989 for "indifferent fielding." Sheffield claimed an injured foot, but the club seemed to not believe him. Once he was in the minors, it was revealed that he had a fracture. "He didn't trust anyone after that," says Tom Trebelhorn, the Brewer manager at the time.

When he returned to Milwaukee, he was moved to third base, a move that led to malcontent and complaints from Sheffield. He claimed the choice to play him at third was racially motivated. From there, Sheffield's frustrations with the team seemed to follow him to the plate. "When a reporter wondered whether I thought the decision had racial overtones, I wasn't about to lie," Sheffield writes."

"I've never been more miserable," Sheffield writes [in his book Inside Power], referring to the time after the '91 season, when he played in only 50 games because of wrist and shoulder injuries. He batted .194, a career low.

"Milwaukee wasn't my kind of town. Milwaukee wasn't my kind of team. Far as I was concerned, Milwaukee was hell."

To top off the discontent, Sheffield claimed that then-owner Bud Selig offered him a long-term deal (stories vary on when the deal was offered) and then reneged.

Sheffield was so upset that he later said he purposely botched plays: As Sheffield said in the Los Angeles Times in 1992: "The Brewers brought out the hate in me. I was a crazy man ... I hated everything about the place. If the official scorer gave me an error, I didn't think was an error, I'd say, 'OK, here's a real error,' and I'd throw the next ball into the stands on purpose."
Sheffield later retracted the part about purposely making errors, saying he merely was speaking from frustration, and the official record doesn't support his original statement anyway. But the damage had been done. Not only was Sheffield a PED cheat, the narrative goes, but he also was a spoiled malcontent who made errors on purpose in order to spite the authority figures on his own team. And he was a bad fielder, even when he tried.
And his hitting wasn't even that good, when compared to some of his contemporaries.
Let's say the behavioral issues (or perceived behavioral issues) don't bother you that much as a voter. Circling back to Sheffield's bat, it's easy to find analysis that says Sheffield wasn't even that good of a hitter. And look no further than Dave Cameron of FanGraphs:
While Sheffield might hope that his home run totals get him compared to the likes of Frank Thomas, he's actually comparable to guys like Jim Edmonds, Larry Walker, and Edgar Martinez. As Edgar's results on his first two opportunities have shown, voters are not overly eager to put these great-but-flawed players into Cooperstown.

Whether they should or not essentially depends on how large of a Hall Of Fame you're in favor of. There are arguments to be made for all of these guys, but smaller hall supporters can legitimately argue against putting any of them in. The problem for each of them is that there are quite a few players in the same boat, and electing one means that you're probably electing all of them. It's tough to argue that Sheffield should be in but Walker should not be unless you just give defensive value no consideration whatsoever. If you do take the stance that defense doesn't matter, than you probably have to put Edgar in. Either way, Sheffield is going to find himself linked with others who are not viewed as slam-dunks, and with a crowded field of similar players, he's likely going to have a hard time getting in.
Edmonds, Walker and Martinez should be in the Hall of Fame -- it doesn't really take a "big Hall" philosophy to believe that -- but Cameron is right in saying that, if those players aren't in, Sheffield's not in. He wasn't a better player than Edmonds, Walker or Martinez.