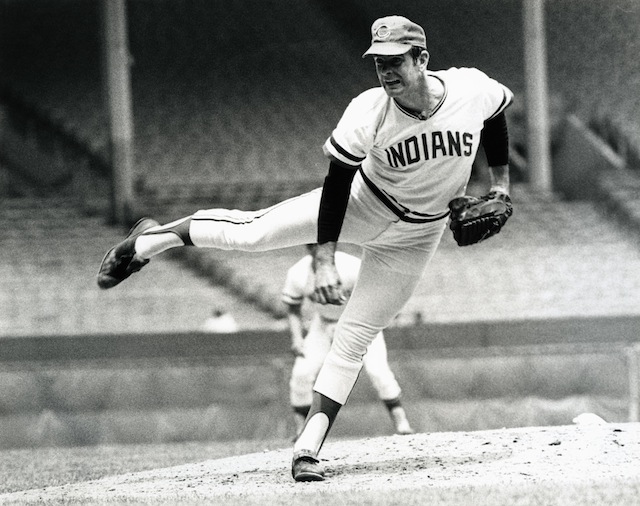 More MLB: Scoreboard | Standings | Probable Pitchers | Sortable Stats | Odds
In a recent interview with Syracuse.com, Hall of Famer Gaylord Perry took time to address a number of baseball topics, the terminally ongoing PED controversy foremost damong them.
Perry, of course, pitched in the majors for parts of 22 seasons and threw many a spitball along the way. The spitter, you'll recall, was formally banned by MLB way back yonder in the 1920. Also banned by MLB? The use of any number of performance-enhancing drugs (although there was no codified ban until 2002). Those two similarities led to this exhange:
Would he cast a Hall of Fame ballot for a player linked to steroids?

"Oh, not for a long time. I would wait, wait, wait. I guess (I would) when my brain gets old and forgives them.''

...

In terms of ethics and cheating, how much difference is there between throwing a spitter and using steroids?

"There's a tremendous amount. You try things, you try to improve (in looking for a small edge). Back in the 1960s and 70s, we played hard. We had a good time.''
Note that the second answer is almost charmingly non-responsive. It was different because Perry and his fellow travelers "had a good time"!
I disagree on the distinctions, though. I get that doctoring the ball is a more culturally sanctioned form of cheating. I also get that PED use is a bit more noxious in that it creates structural pressures for other players to use. In terms of corrupting the game on the field, though, Perry's favored brand of cheating did that pretty well, too. I'm not particularly outraged by either form of rule-breaking, but it strikes me as a bit too contradictory and self-serving for a famous spit-baller to say PED users have no standing to join him in Cooperstown.
For me, the tendency of to wave away spitballs,  sign-stealing and even rampant amphetamine use in the 1960s and 1970s is one of the more frustrating angles of this tiresome debate. The drawing of bright lines remains too bright, too convenient.
(Wink of CBS eye: BBTF)