Hamilton likely to become free agent, but Rangers may still try to lock him up first
The big hangup in negotiations between superstar Josh Hamilton and the Rangers is expected to be the length of the contract.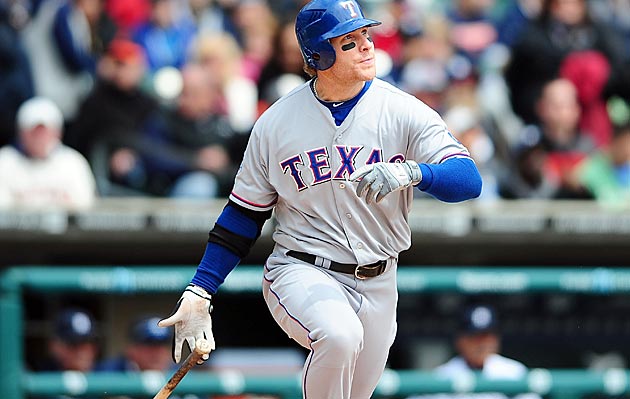 Josh Hamilton is worthy of an elite salary, but for 10 years? (US Presswire)
Rangers
president Nolan Ryan has said he expects superstar outfielder
Josh Hamilton
to file for free agency at year's end. However, that doesn't mean the team has totally abandoned the idea of trying to sign him long-term during the season.
Hamilton and the Rangers have maintained a terrific relationship through their wildly successful and occasionally stormy four-plus-year relationship, so there's a bit of hope they can get something done before free agency. However, they would very likely have to bridge a big gap on the issue of the length of the contract.
The Rangers are believed to be willing to offer Hamilton, 31, a big annual salary reflective of his enormous talent. However, the Rangers, a team that has been very much against extremely long deals along the lines of the Albert Pujols, Prince Fielder and Joey Votto, do not want to give a deal of close to the length of those deals (which were 10, 9 and 10 years) to anyone, much less Hamilton. Hamilton is said to be looking for a contract befitting an "elite" player, which isn't hard to identify these days.
Irrespective of their usual team policy to limit deals for stars, Hamilton carries a particular risk.
The Rangers have assigned a "life coach'' to chaperone and monitor Hamilton, and he's had only two relapses that became public since he's been in Texas. But people who have spoken to the life coaches suggest it is a very demanding job. Hamilton was on the restricted list for failed drug tests before making a comeback with the Reds, who traded him after one year to the Rangers because Reds team doctors questioned whether he'd stay healthy.
Not only has he remained healthy, he's become one of the best and most productive players in the game. He leads the American League with 21 home runs and 57 RBI, has a .348 batting average and is a major threat to win his second MVP in Texas.
The Rangers have three other important free agents: catcher
Mike Napoli
, starter
Colby Lewis
and reliever
Mike Adams
.
But the attention, understandably, is on Hamilton.
Colon wants to break a Dennis Martinez record

The Twins have been rumored to be interested in Darvish all winter

Rolen is one of the best third basemen of all time, but you wouldn't know it based on this...
Neither Josh Donaldson nor Brian Dozier have talked about a new contract extension

Francisco leads the Dominican Winter League with seven home runs

Thome deserves enshrinement and here's why the case against him does not hold up