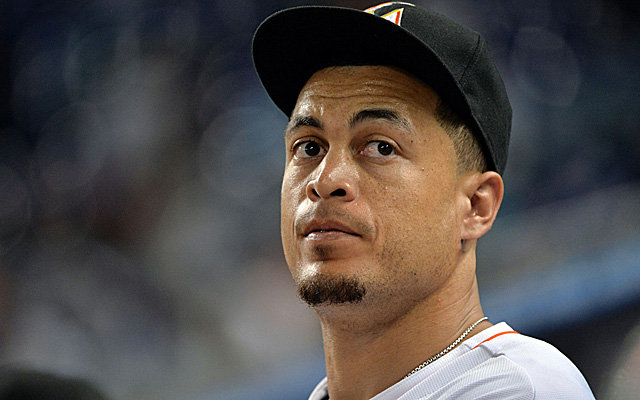 The headline for Giancarlo Stanton's new deal with the Marlins is obviously the 13 years and $325 million. The subhead has to include the no-trade and opt-out clauses. Diving into the meat of the deal, though, let's talk about how the deal is structured. That is, it's backloaded.
No, that's actually an understatement. The deal is absurdly backloaded like nothing we've ever seen before.
Stanton will make $107 million in the six years before his opt-out, Jon Heyman reports. That's an average salary of $17.83 million per year. Four outfielders -- Matt Kemp, Jacoby Ellsbury, Carl Crawford and Jayson Werth -- made more than that last season. Given Stanton's age and abilities, I'm rather confident in calling this part of the contract a bargain. Put it this way: What would he get if he were a free agent right now? Double that, right?
After the sixth year, Stanton can opt out of the deal and become a free agent. Unless he's the second-coming of Babe Ruth by then or the landscape of baseball significantly changes, he'll have plenty of reasons not to do so.
In the seven years on the deal after Stanton's opt-out clause, he's due $218 million. That's an average annual value of $31.14 million per season for Stanton at ages 31-37. Will he be worth that? If he's worth more come that time, he can opt out and go to whichever team will sign him. If not, the Marlins are saddled with it.
Aside from the obvious "holy hell" takeaway, the significant thing here is the payroll flexibility this likely leaves the Marlins with in the short-term.
Reports have indicated the Marlins are working on locking up the likes of Christian Yelich, Adeiny Hechavarria and Jose Fernandez long-term, with Fernandez (Scott Boras client with ridiculous upside) being a tall order. With Stanton's contract not getting truly insane until 2021, there's likely room to do so.
Also, this could give the Marlins the opportunity to add from outside the organization and they could use help at the corners. On this front, ESPN.com's Jayson Stark reports the club has "shown aggressive interest" in free agent first baseman Adam LaRoche.
The jury's still out as to how this deal with work out for the team, of course, and I can't shake the feeling that owner Jeffrey Loria is desperately hoping Stanton will opt out of the deal -- or simply will be content to sell the team in the next six years -- but I'm willing to give them the benefit of the doubt here. It's entirely possible they are lining up their chips to contend with this specific core of young players for the next six seasons.
On the latter front, this heavy backload will help.
>> Want more on Stanton deal? Where does $325M deal rank?