Indians pick rookie Danny Salazar to start wild-card game
Danny Salazar is just 23, and has made only 10 big-league starts. But Indians manager Terry Francona has picked him to start Wednesday night's American League wild-card game.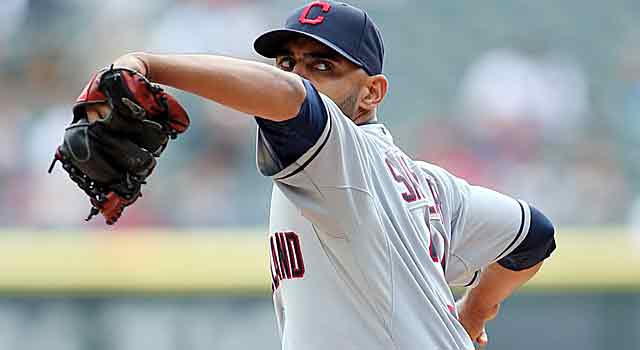 MINNEAPOLIS -- Danny Salazar was a 17-year-old kid in the Dominican Summer League the last time the Indians went to the playoffs.
He's 23 now, a major leaguer for not even three months -- and about to start the most important game the Indians have played since 2007. Minutes after the Indians clinched a wild-card spot with Sunday's 5-1 win over the Twins, manager Terry Francona named Salazar to start Wednesday night's game against either the Rays or the Rangers.
"We wouldn't do it if we didn't believe in him," Francona said.
The Indians needed ace Ubaldo Jimenez to win Sunday's game and get them into the playoffs, so he couldn't be ready for Wednesday. Neither could Scott Kazmir, who started and won Saturday against the Twins.
Francona could have picked Cory Kluber, but instead chose Salazar, who began the season with Double-A Akron and has made just 10 big-league starts.
"I think he's learning as he goes," Francona said. "He's not a finished product. The finished product is going to be special."
By clinching Sunday and avoiding a tie-breaker that could have seen them play both Monday and Tuesday, the Indians guaranteed that they'll have a rested bullpen for Wednesday.
They may need it. Salazar hasn't gone past the sixth inning since Aug. 7, when he pitched 7 2/3 innings against the Tigers in his second big-league start. That was also the only game where he threw as many as 100 pitches.
The hard-throwing Salazar has a 3.12 ERA, and struck out 65 batters in 52 innings.
"The team trusts me," Salazar said. "I'm just going to do my best."