Jim Leyland: Miguel Cabrera deserves MVP over 'Wonderboy' Mike Trout
Detroit manager Jim Leyland says Miguel Cabrera deserves the MVP over the Angels' Mike Trout.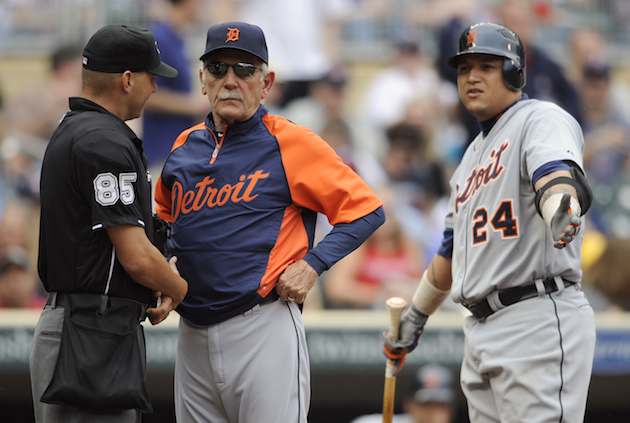 Jim Leyland has Miguel Cabrera's back, but Mike Trout's this year's best player. (Getty Images)
Tigers manager Jim Leyland doesn't have an MVP vote, but if he did, he'd vote for his man, Detroit third baseman Miguel Cabrera, he told WXYT 97.1 in Detroit. Leyland didn't stop there, he said he's afraid "Wonderboy" Mike Trout would take votes away from Cabrera.

"What's going to be dangerous for Miggy, and I mean this respectfully, he could run into one of these 'Wonderboy' stories," Leyland said (via the Detroit News). "Trout, he's one of the best young players I've ever seen. At the same time, when you do it over a period of time, a little bit longer, I think that should have something to say about that. That should be part of it. Although this certainly is a great story with the Trout kid. He's unbelievable."

Cabrera has finished in the top five of AL MVP voting in each of the last three years, but never won it.

This year he's hitting .323/.384/.586 with 29 home runs and a big-league best 95 RBI. Trout is hitting .345/.409/.597 with 20 home runs, 60 RBI and 36 stolen bases. He leads the majors in stolen bases and runs (87), and leads the AL in batting average.

Leyland's right to stick up for his guy -- and if he means you should take in account the entire season, including the next two months, as part of his "period of time," he's right. But if he's suggesting (and I believe he is) that Cabrera's past performance should play a role in the MVP race, he's dead wrong. The MVP is a yearly race and year in and year out, Cabrera's in that discussion, but those votes don't roll over like unused cell phone minutes.
Cabreara's one of the game's very best hitters, but through the first four months of the season, at least, Trout's the game's best -- and most valuable -- player.

For more baseball news, rumors and analysis, follow @EyeOnBaseball on Twitter, subscribe to the RSS feed and "like" us on Facebook.
Could catcher J.T. Realmuto be the next Miami player to be traded?

If the slow-play for Martinez, Hosmer and Arrieta sounds familiar, it should

The Nats will host the All-Star Game in 2018
The Orioles are looking to trade Machado heading into his walk year

The Cardinals have been linked for a while to the Baltimore star

Gallardo spent the first eight years of his career in Milwaukee