Lance Berkman 'OK' with retirement if he doesn't get the right offer
Cardinals first baseman Lance Berkman is a free agent after the season and said he may retire if he doesn't get a good enough offer for 2013, something that could happen considering his injury history.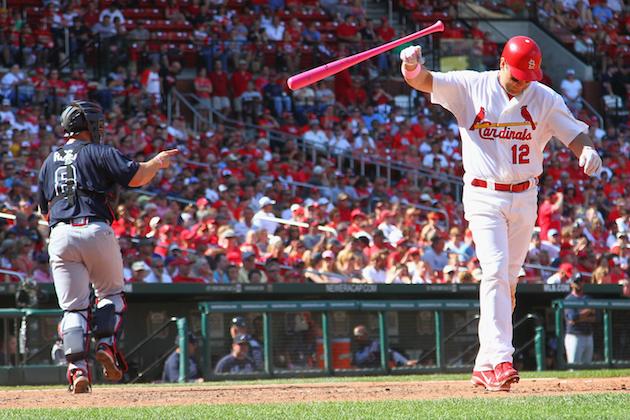 Lance Berkman as played in just 28 games this season due to injuries. (Getty Images)
For all the times you hear players say "it's not about the money," It's always refreshing to hear one admit money is a big deal. Lance Berkman has never sugar-coated his beliefs about his pay. This past offseason when the 14-year veteran signed a one-year, $12 million deal to stay with the Cardinals, he freely admitted it was about the money. So to may be a 15th season, he tells Joe Strauss of the St. Louis Post-Dispatch.

"It's about the money because I'm sure there's a price point they don't want to go beyond," Berkman told the paper. "There's also a price point for me where it doesn't make sense for me to keep playing. There may be a balance. There may not be. The club has been great to me. It's just a matter of economics."

Berkman's right. There are some players who will keep playing until the phone stops ringing (like, say, Johnny Damon), while others know there's a time and it may not be worth it to keep playing. Berkman also said he sees the other side of the coin, too. He was a bargain last season when he signed a one-year, $8-million deal and produced at an MVP level. This year he got a raise and has appeared in just 28 games, failing to record even 100 plate appearances. At $12 million, that's not a good return on investment.

"If you're playing GM and looking at this objectively, you're looking at an older player who essentially is missing an entire year," Berkman told Strauss. "You look at it as a flier. The question is, how big a flier?"

If there's not the right opportunity at the right price, Berkman told Strauss, "I'm OK walking away if it's not comfortable."

Further complicating his future is health. Berkman's currently on the disabled list with a right knee injury, but a recent MRI showed  compromised cartilage behind the left knee.

Berkman, 36, already has five knee surgeries under his belt -- three on the right, two on the left -- and acknowledged that he's started thinking about the end of his career.

"I've tried not to think that far ahead, but whenever you get to a certain age and begin to play year to year, you almost have to," Berkman told Strauss. "At some point it ends for everyone, no matter what. A guy like [Baltimore's] Jim Thome is trying to play forever. But he's not going to. No matter what, at some point, you're going to have a last game or a last day. I'd be lying if I said I didn't contemplate that."

Berkman said he'll play again this season, but anything beyond that is still to be decided. He told Strauss he'd also accept a minor-league rehab assignment when he does return, something he didn't do in May after missing a month following surgery on his right knee. The minor-league season ends Sept. 3. He also said he doesn't think more surgeries can help him.

"Really nothing can be done about it," Berkman told the newspaper. "There is a law of diminishing returns. The more you stick a scope in there, the more the scar tissue and the more the arthritis."
For more baseball news, rumors and analysis, follow @EyeOnBaseball on Twitter, subscribe to the RSS feed and "like" us on Facebook.
A beardless Wilson says that he tried to outrun the police on the second day he had his driver's...

The Diamondbacks outfielder was not impaired, he was just going way too fast

MLB can unilaterally implement rule changes, which will also include limits on mound visit...
If the MLBPA wants to fix MLB's economic system, it should push for more money for young p...

Fans aren't happy Gerrit Cole and Andrew McCutchen have been traded away

Acuna is arguably the best prospect in baseball