Lawsuit alleges Barry Zito was duped out of $3M
San Francisco Giants pitcher Barry Zito has filed a lawsuit for $3 million against a friend for allegedly duping him out of that money in a 'fitness software scheme that never materialized.'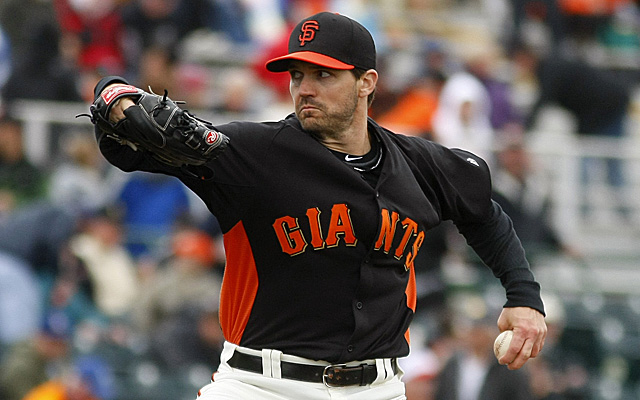 San Francisco Giants pitcher Barry Zito has filed a lawsuit for $3 million against a friend -- I'm guessing former friend now, actually -- for allegedly duping him out of that money in a "fitness software scheme that never materialized."
Barry Zito Enterprises Inc. filed two Superior Court complaints against dotFIT LLC, Global Health Solutions LLC, NEFC FitInnovations LLC, Lafayette Holding Company LLC and New Evolution Ventures LLC.

Zito also sued his friend Michael Clark, and Neal Spruce and Odd Haugen.
The basics are that Zito claims Clark used their friendship to gain the trust of Zito and convince him to make a $3 million investment in the startup company that was in the midst of raising $20 million worth of equity.
As things turn out, according to the Zito camp, the company never had close to that in equity but paid employees "unreasonably high salaries" and bonuses while allegedly taking part in insider loans and other nefarious activities. There were also, per Zito's attorneys, several areas in which the agreement between Zito and Clark were breached.
If interested, go read the whole thing on Courthouse News. It's pretty long and involved. Of note, Clark's company at one point sold a stake to Madonna, though she's not involved in the lawsuit at all.
And, yes, Barry Zito is heading into the final season of his seven-year, $126 million contract with the Giants, but $3 million is still a pretty penny. It's about 15 percent of his 2013 salary. If you want, calculate 15 percent of your own salary. While not a death blow by any stretch, we'd all feel that.
Hat-tip: Big League Stew
For more baseball news, rumors and analysis, follow @EyeOnBaseball on Twitter, subscribe to the RSS feed and "like" us on Facebook. Also, individually interact with us on Twitter: @MattSnyder27, @daynperry and @mikeaxisa.

They still would much rather grab the AL East, however

Sale becomes the first AL pitcher to reach 300 strikeouts since 1999

Steve Balboni's long-standing record of 36 has finally fallen
Several players called for the netting to be extended down the base lines following Wednesday's...

Maria made landfall as a Category 4 on Wednesday

The players are trying to do their job and don't want to see anyone hurt