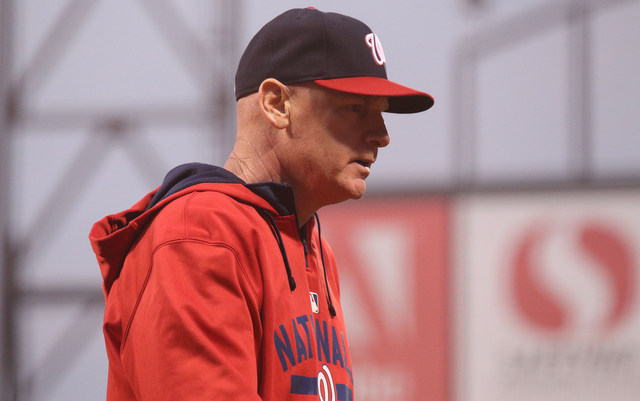 Tuesday night, the Nationals suffered a disastrous loss to the Mets (NYM 8, WAS 7), blowing a 7-1 lead and falling to six games back in the NL East with 24 to play. Our Sportsline Projection Model gives Washington just a 3.0 percent chance to qualify for the postseason at the moment.
As always, both managers met with the media following the game. Nationals manager Matt Williams, who seems to be very much on the hot seat, finished his chat with reporters then was booed off the podium by nearby fans. Here's the awkward video:
Williams is certainly not the best strategic manager in the game, far from it, but I find it very hard to put Tuesday night's loss on his shoulders. He went to his top two relievers in the most important situations, and they were on the mound for five runs in 2 1/3 innings. At some point the blame shifts to the players. Tuesday's loss is on Drew Storen and Jonathan Papelbon more than Williams.
That said, Williams has been detriment to the Nationals this season. CBS Sports MLB Insider Jon Heyman recently reported "ownership has been generally quite unhappy with what's going on with the team," and it seems likely Williams will be replaced if the Nationals fail to qualify for the postseason.
Teams don't come into the season with as much hype as the Nats, miss the postseason, and stand pat. That doesn't happen. Someone takes the fall and that someone is often the manager.