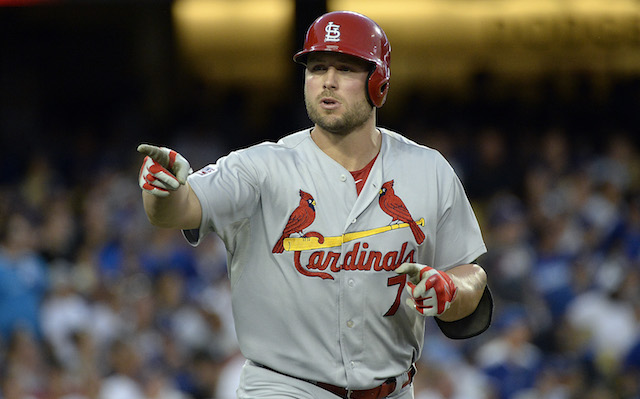 It's free agent season, and thus it is the time for righteous hand-wringing over all the dollars that are about to be thrown around. When it comes to premium, top-tier free agents like, say, Max Scherzer, Jon Lester and Hanley Ramirez, the process usually goes something like this ... 
Free agent signs for nine figures stretched over many years -- years deep into his decline phase -- but agrees to backload it. That backloading allows teams to free up cash flow at the front end and take advantage of the time value of the deferred money. Yes, they'll be over-paying the player in the latter years of the contract, but the hope is that he provides enough excess value at the front end to make it all worthwhile. Sometimes, this works out just fine, and sometimes poor evaluations of the player's "front end" skills make it a bad investment (Albert Pujols's contract with the Angels is shaping up to be an example of the latter). And then, every now and again, we get a Matt Holliday. 
By way of reminder, the Cardinals first acquired Holliday in a (very one-sided) trade with the Athletics in July of 2009. He played out the string for St. Louis and hit the free agent market the following offseason. The Cardinals wound up signing him to a seven-year, $120-million contract. Those numbers still seem large, and let's keep in mind that pact was forged almost five years ago. 
Risk seemed to abound. Holliday was an excellent hitter, even in context-neutral terms, but his brief time outside of Coors Field had been a bit of a mixed bag (good but hardly elite for the first half-plus of 2009 in Oakland, spectacular with the Cards down the stretch). He was entering his age-30 season and was confined to a non-premium position on the diamond. Holliday was darn good, but was he good enough to justify this kind of contract? 
As it turns out, a bellowed and resounding "yes" is the answer to that question. Remove his outstanding 2009 Cardinals numbers from the calculus (let's focus on his numbers after the contract was inked) and you get the following outputs on St. Louis's watch: 147 games per season, .295/.383/.496 (141 OPS+) with 119 homers and 185 doubles. That's consistent and excellent production. 
But what about value on the dollar? To get an idea of how Holliday shapes up on this front, we'll turn to FanGraphs' WAR. In terms of the estimated cost of one of WAR on the free agent market, Holliday since the start of the 2010 season -- i.e., the onset of his $120-million contract -- has been worth $109.7 million. Over that same span, Holliday has been paid a little less than $84 million. In other words, relative to our best estimations of Holliday's market value over the past five season, the Cardinals have come out substantially ahead, even after you account for the discounts that tendering a multi-year deal typically yield. Such are Holliday's steady skills and such is the market for premium talents. 
As for the road ahead, Holliday still has two guaranteed seasons on his deal at $17 million per. He's coming off a 2014 campaign in which he predictably showed signs of age-related decline, but Holliday still played in 156 games and churned out an OPS+ of 126. The Steamer system projects Holliday in 2015 as a three-win player (in terms of WAR), so he's again likely to be worth his paycheck and then some, at least by market terms. As noted above, that's typically not how the last years of a big contract work, but the Cardinals are poised to continue getting a nice ROI on Holliday, maybe even through the end of his deal. 
Holliday's contract does include a $17-million option for 2017, but there's a low-cost $1-million buyout, and the option vests only if Holliday finishes in the top 10 of the NL MVP balloting in 2016. That is, it vests only if Holliday remains worth more than he's being paid. As options go, that's a nice one to have from the team perspective.
Contracts like Holliday's aren't acts of charity. Teams offer such deals because they've determined they're worth it, no matter how jaw-dropping the money involved might seem to folks like you and me. In the case of Holliday's deal, the Cardinals will almost certainly wind up coming out well ahead after it's done. It's possible, you see! Bear that in mind as the sacks of money start dropping in the weeks to come.