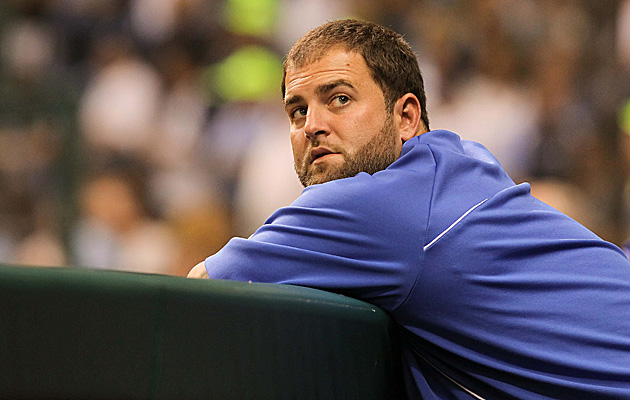 Napoli has a scary-sounding hip issue.(US Presswire)
Shortly after an announcement was made that Mike Napoli had agreed to terms on a one-year contract with the Red Sox, there was a conference call with reporters, Napoli, Napoli's agent Brian Grieper and Red Sox general manager Ben Cherington. The major topic of the call was Napoli's hip injury, which appears to be the reason why the initial three-year, $39-million deal was reworked.
It turns out that Napoli has avascular necrosis in both hips. AVN is a degenerative condition where bone tissue dies due to lack of blood supply. According to mayoclinic.com, "blood flow to a section of bone can be interrupted if the bone is fractured or the joint becomes dislocated."
AVN was one of the contributors to the end of Bo Jackson's football and baseball careers, but Brett Favre played nearly his entire NFL career with the condition (via CBSSports.com archives).
According to Napoli's agent, an MRI last spring did not reveal AVN. It was discovered during his physical for the Red Sox. Also, Napoli's agent insists that this issue will not affect his performance and that moving to first base will only help his client.
"This has not affected him whatsoever," Grieper said (via Boston.com). "Mike is asymptomatic. No soreness, no restrictions, no nothing."
Still, knowing all this, it's pretty easy to see why Napoli's three-year, $39 million deal ended up being finalized at one year and $5 million.
For more baseball news, rumors and analysis, follow @EyeOnBaseball on Twitter, subscribe to the RSS feed and "like" us on Facebook. Also, individually interact with us on Twitter: @MattSnyder27, @daynperry and @mikeaxisa.