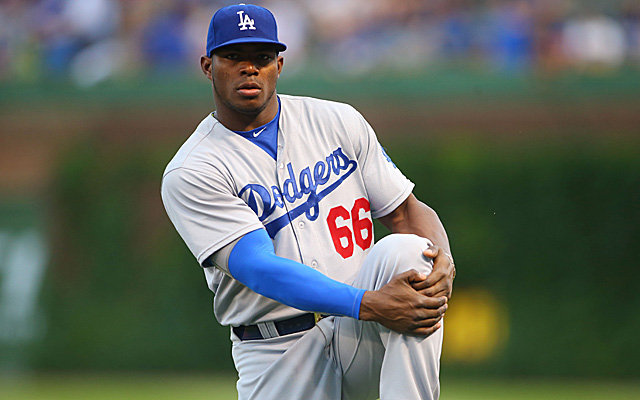 The polarizing Yasiel Puig is quite the unpopular fellow in the Dodgers locker room, according to a new book by ESPN's Molly Knight, titled "The Best Team Money Can Buy."
A few of the issues, via Yahoo's Jeff Passan:
While some issues, like his habitual tardiness for games, have abated this year, according to sources, Puig's work ethic in batting practice and the weight room continue to bother some teammates. Much of the hostility stems from a general sense of entitlement shown by the 24-year-old. During spring training this year, as Knight writes and multiple sources confirmed to Yahoo Sports, Puig argued with teammates over who should be allowed on a plane ride that typically includes wives and girlfriends. The subject of someone from Puig's entourage joining the traveling crew came up, and sources told Yahoo Sports that Puig argued with pitcher Zack Greinke and nearly came to blows with infielder Justin Turner over the matter.

Greinke, the National League ERA leader and one of the game's best pitchers, was at the center of another memorable Puig moment related in Knight's book. In 2014, during the Dodgers' annual trip to Chicago, the team bus stopped downtown to allow rookies undergoing hazing to walk into a pizza place and emerge with food for the veterans. Some Dodgers players, not wanting to wait, skipped off the bus. When the bus was ready to leave, Puig was outside, looking for his luggage inside of the bay underneath the bus. After Puig ignored multiple requests to close the luggage bay, Greinke hopped off the bus, grabbed the suitcase in front of Puig and chucked it onto Michigan Avenue. Puig stepped toward Greinke and was restrained by reliever J.P. Howell.
Oh man. Passan also reports that a Dodgers player who asked to remain unnamed said trading Puig would be "addition by subtraction."
Further, how about this gem from Hanley Ramirez? From Knight's book:
"You guys tell me how you want me to play," Puig said last year in a team meeting.
"I just don't want your career to go the way my career went," Ramirez said. "All my teammates hated me because of the way I played."
That's rough. I guess the silver lining is that it's nice Ramirez owns who he once was now that he's 31.
Puig is only 24 years old, and he's a career .304/.386/.498 hitter. The Dodgers have made the playoffs in each of his first two years and appear headed that way again. Puig has the tools to be an all-around superstar for more than a decade. And yet, it sounds like many of his teammates want him gone.
The hunch is this front office continues to stick with Puig, so long as the Dodgers are winning, in hopes that as he ages he straightens things out. In the meantime, it's a situation worth monitoring.