No. 2 pick Buxton beats Mauer's Twins record, gets $6M bonus
High school center fielder Byron Buxton might wind up with the highest draft bonus this year after agreeing to a $6 million Twins deal.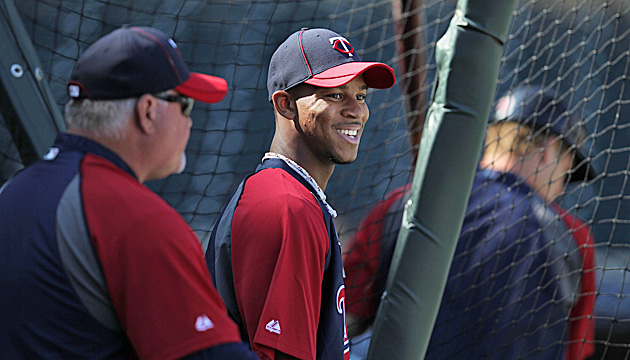 Buxton's bonus beats top overall pick Carlos Correa's of $4.8 million. (AP)
Byron Buxton, the No. 2 overall pick in the
MLB
draft, agreed to sign with the Twins for $6 million, breaking Joe Mauer's team record $5.1 million draft bonus and setting a high bar to be this year's top bonus.
Buxton, the five-tool high school center fielder from Baxley, Ga., beat No. 1 overall pick Carlos Correa's $4.8 million bonus and seems unlikely to be topped by any of the players that followed him in the draft. Stanford pitcher Mark Appel, who was seen as the top college pitcher and became the No. 8 overall pick, was selected by the Pirates, who have a $6.5 million allotment for all their bonuses; they've said they will not lose their pick next year, which means they can only go five percent over the $6.5 million.
Buxton has many talents but his biggest attribute is his speed. He's viewed as B.J. Upton or Dexter Fowler type, but perhaps even better.
Jim Callis of
Baseball America
first mentioned the $6 million figure.
It's almost that time of the year again, time for the Tebow madness to return

Walker was a tremendous all-around player, but Coors Field undoubtedly inflated his career...

A beardless Wilson says that he tried to outrun the police on the second day he had his driver's...
The Diamondbacks outfielder was not impaired, he was just going way too fast

MLB can unilaterally implement rule changes, which will also include limits on mound visit...

If the MLBPA wants to repair MLB's salary structure, it should push for more money for young...