No. 2 pick Buxton beats Mauer's Twins record, gets $6M bonus
High school center fielder Byron Buxton might wind up with the highest draft bonus this year after agreeing to a $6 million Twins deal.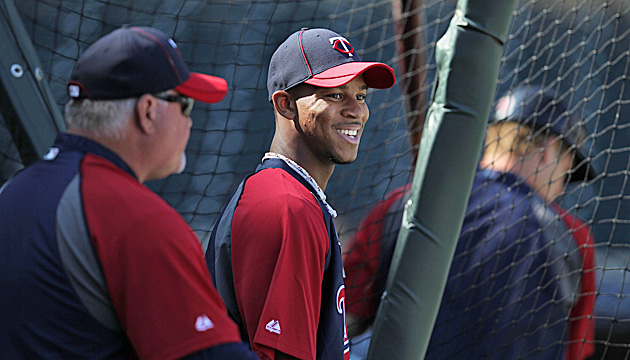 Buxton's bonus beats top overall pick Carlos Correa's of $4.8 million. (AP)
Byron Buxton, the No. 2 overall pick in the
MLB
draft, agreed to sign with the Twins for $6 million, breaking Joe Mauer's team record $5.1 million draft bonus and setting a high bar to be this year's top bonus.
Buxton, the five-tool high school center fielder from Baxley, Ga., beat No. 1 overall pick Carlos Correa's $4.8 million bonus and seems unlikely to be topped by any of the players that followed him in the draft. Stanford pitcher Mark Appel, who was seen as the top college pitcher and became the No. 8 overall pick, was selected by the Pirates, who have a $6.5 million allotment for all their bonuses; they've said they will not lose their pick next year, which means they can only go five percent over the $6.5 million.
Buxton has many talents but his biggest attribute is his speed. He's viewed as B.J. Upton or Dexter Fowler type, but perhaps even better.
Jim Callis of
Baseball America
first mentioned the $6 million figure.
Could catcher J.T. Realmuto be the next Miami player to be traded?

If the slow-play for Martinez, Hosmer and Arrieta sounds familiar, it should

The Nats will host the All-Star Game in 2018
The Orioles are looking to trade Machado heading into his walk year

The Cardinals have been linked for a while to the Baltimore star

Gallardo spent the first eight years of his career in Milwaukee