OLD SCHOOL GIF: Carl Hubbell comes inside on Babe Ruth
Here's the great Carl Hubbell side-arming it against the even greater Babe Ruth back in 1935.
MORE: All-Time Single-Season San Francisco/New York Giants Team
On the occasion of our unveiling of the all-time single-season Giants team, let us take a moment to celebrate the essence of Carl Hubbell. 
The "Meal Ticket" was an ace lefty who spent each of his 16 major-league seasons with the Giants and along the way won 253 games and posted an ERA of 2.98 despite toiling in what was generally a strong hitter's era. Thanks in large part to his famous screwball and sidearm delivery, Hubbell earned election to the Hall of Fame in 1947, his fourth year on the ballot.
And speaking of that sidearm slot, here's some action-news footage from 1935 that shows Hubbell coming inside on Babe Ruth, who was playing his one and only season with the Boston Braves at the end of his matchless career ...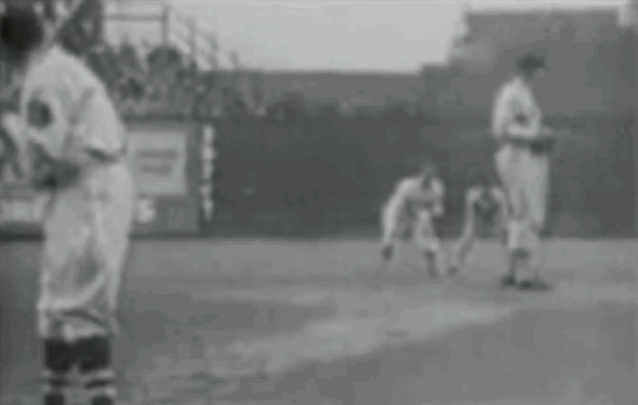 Grainy, yes, but you get the idea. This doesn't appear to be Hubbell's famous screwball, as that pitch thrown by a lefty necessitates a clockwise snap of the wrist, which doesn't seem to be happening here. That's definitely the sidearm delivery, though, and it's easy to understand why a lefty batter would bail out with some degree haste. I, for instance, would probably drop down and start military-crawling for the first base dugout upon first sight of the ball out of Hubbell's hand. 
In any event, Hubbell threw his screwball so much that, by the end of his career, it rendered his left wing mangled and permanently turned the wrong way. As the great Jim Murray wrote of Hubbell ... 
"The only eccentric thing about him is his left arm. He looks as if he put it on in the dark."
Call it an occupational hazard, but one Mr. Hubbell would probably say was worth it.