Phillies sign Marlon Byrd to two-year, reported $16M deal
The Phillies have signed free agent OF Marlon Byrd to a two-year deal. It is for $16 million, according to one report.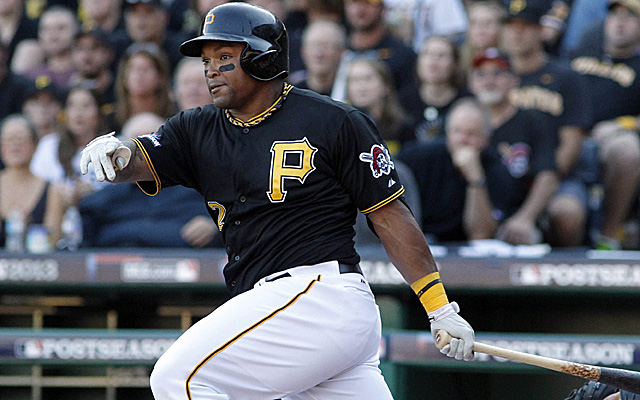 The Philadelphia Phillies have signed free-agent outfielder Marlon Byrd to a two-year contract, reports Jon Heyman of CBSSports.com.
The deal is for $16 million, according to Adam Rubin of ESPN New York.
Byrd, 36, resurrected his career last season for the Mets and Pirates after a disaster of a 2012 campaign. He hit .291/.336/.511 with 35 doubles, 24 homers, 88 RBI and 75 runs. He was a late August addition for the Pirates, providing them with quality offense and helping to propel them to their first playoff berth since 1992. Not only that, but it was the first time in Byrd's 12-year career that he made the playoffs.
When he got there, he made it count, too, hitting .364/.391/.591 with two doubles, a homer and five RBI in six games.
This was quite a turnaround from 2012, when Byrd started 3 for 43 (.070) for the Cubs before being traded to the Red Sox. He was released by the Red Sox June 12 and later had to serve a 50-game suspension for violating the league's Joint Drug Agreement.
But signing a cheap deal with the Mets this past Feb. 1 turned everything around, and now Byrd has a two-year deal with the Phillies.
The Phillies look to have Domonic Brown in left field, Ben Revere in center field and Byrd in right, with Darin Ruf likely to see playing time as well. That is, unless there's a trade, and we know the Phillies have been connected to Rays ace David Price in rumors. In order to get him, they'd probably have to cough up Brown in addition to others.
Byrd was drafted and developed by the Phillies. He was their 10th rounder in 1999, debuted for the Phillies in the bigs in 2002 and was with them until he was traded to the Nationals in 2005.
Contreras said on Tuesday that he's willing to pay the price

And their offseason decisions prove it

Hosmer recently signed an eight-year contract with San Diego, and his usual No. 35 was spoken...
As part of the five-player deal, Brandon Drury is headed to the Bronx

Stoneman Douglas caps will be worn during Friday's spring training games

Arrieta is the top starting pitcher left on the market