PHOTO: Wade Boggs scouting report from 1976
'Bat slow' and 'needs a lot of help' probably isn't the way most Hall of Famers were talked about in high school.
More MLB: Scoreboard | Standings | Probable Pitchers | Sortable Stats | Odds
Not too long ago, the National Baseball Hall of Fame partnered with the Scout of the Year Foundation to provide a searchable database of scouting reports. The data is very incomplete and the site itself can be pretty slow to respond, but the information that is available is a treasure, a chance to look back at what scouts thought of our favorite players before they became our favorite players.
Here's a scouting report on Wade Boggs from 1976, when he was a senior at Plant High School in Tampa: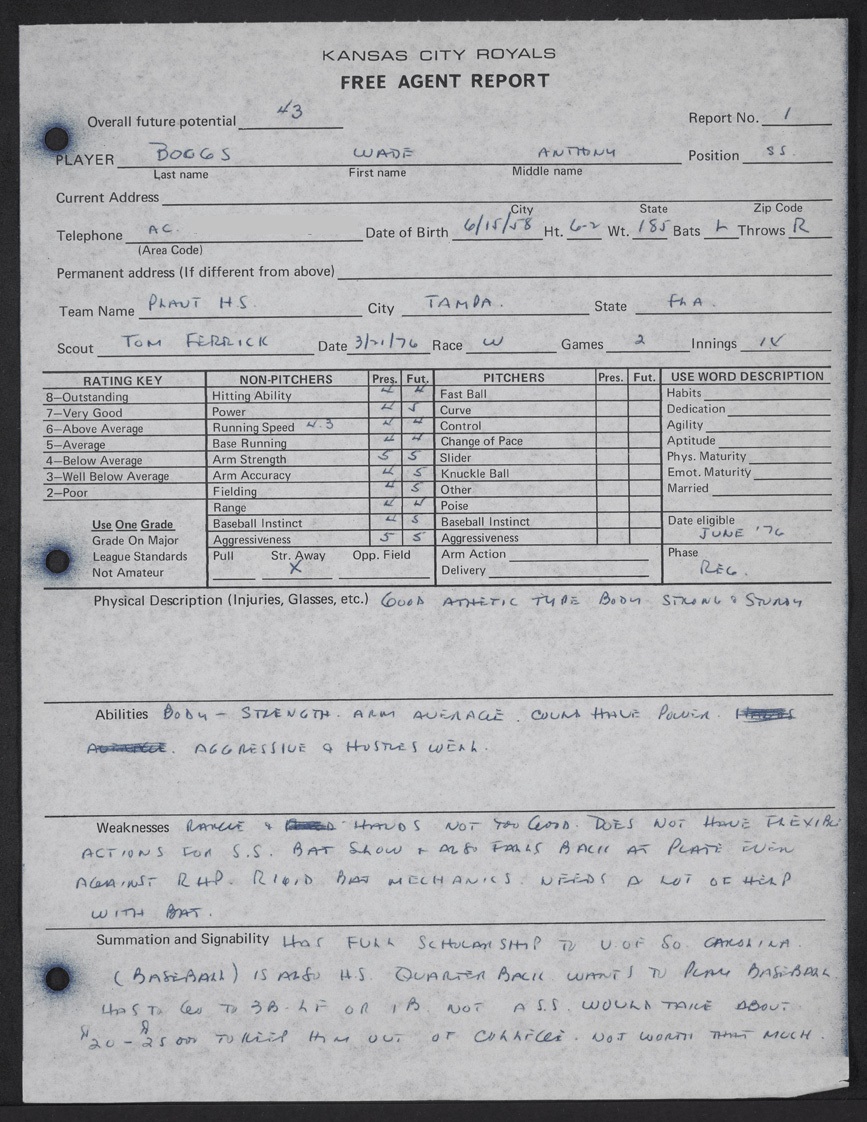 The old-timey chicken scratch handwriting is tough to read, but here's a few nuggets I was able to decipher:
"Bat slow + also falls back at plate even against RHP."

"Rigid bat mechanics. Needs a lot of help with bat."

"Would take about $20-25,000 to keep him out of college. Not worth that much."
The Red Sox drafted Boggs in the seventh round of the 1976 draft, paid him whatever they had to pay him to keep him away from college, and watched him develop into a five-time batting champion and six-time OBP king. Boggs retired with 3,010 hits and a .415 OBP in 1999, five years before being a first ballot induction into the Hall of Fame.
This is just one scouting report I grabbed on a whim, but it gives you an idea of the kind of information suddenly available at our fingertips. Scout Tom Ferrick might not have been wrong about Boggs, he very well might have had a slow bat and needed a ton of help in high school. Maybe the Red Sox ironed him out during his minor league days. After all, Boggs hit .263/.364/.296 in Single-A immediately after being drafted. We have no idea, and that's what makes it so fun.
This goes without saying, but it's very easy to get lost in the scouting report database for a few hours. It's an absolute gold mine.
Charlie Morton will start either Game 3 or 4

Granderson, Verlander, Beltran and more are looking to reach the top of the MLB world

Houston's top relievers have been shaky this postseason
Our experts have a unanimous World Series pick

Otani's rare ability to hit and pitch will need to be accounted for in realms beyond real...

Kenny White has won 8 of his last 10 MLB Over-Under picks and has a strong play for Game 1