More All-Star Game: Rosters | Final Vote | AL Snubs | NL Snubs | SPs?
The 2014 All-Star Game is next week in Minnesota's Target Field, and the event is going to be special for the fans -- especially those who enjoy beer and some outrageous food creations.
First things first -- beer always comes first, people -- there will be self-serve draft beer machines in Target Field. One already debuted in Sunday's game, but there will be another in time for the All-Star festivities. Startribune.com has further details for those interested. This is a first in Major League Baseball.
Anyway, onto the food porn!
Here are four new creations by the good folks from Delaware North SportService in conjuntion with some Target Field chefs, specially made for the All-Star Game.
First up, Lobster Corn Dogs. That is, it's lobster in the middle there, not a hot dog (all photos courtesy Delaware North SportService: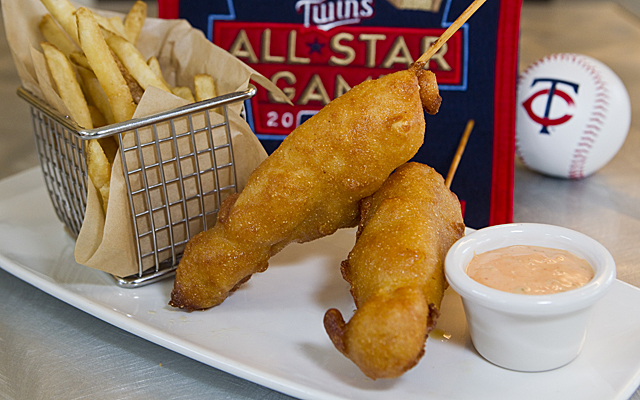 After all that self-serve beer, how about a Hangover Burger? This thing has a pound of meat (10 ounces of ground beef and six ounces of ground bacon) with an egg topper and some fried onions to boot: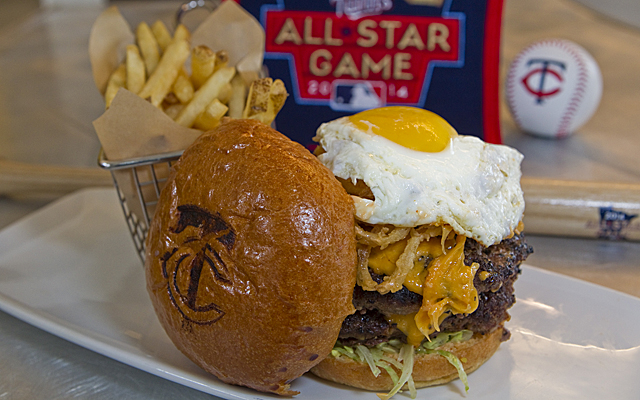 How about the branded bun? That's pretty cool. We'll find it in here on The Double Play, too: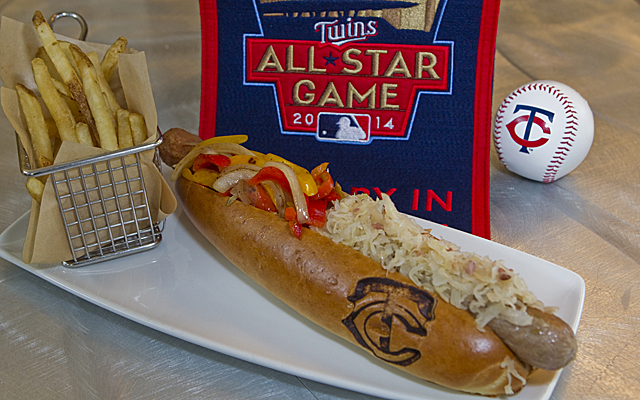 That would be a footlong Hawaiian hoagie roll containing six inches of bratwurst and six inches of polish sausage, covered in bell peppers, pico de gallo, jalapenos, onions, sauerkraut and cheese sauce.
And if you can handle that, how about handling the Footlong BratDog?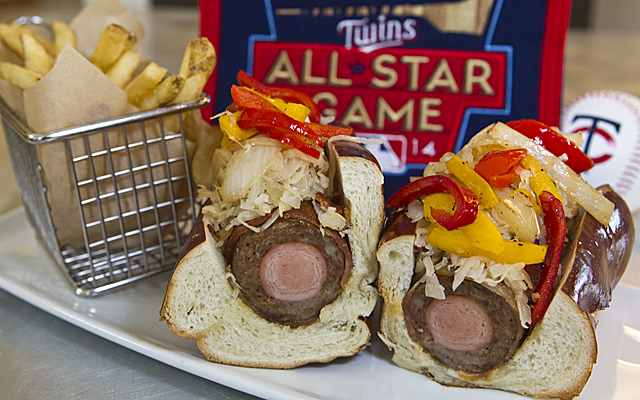 That would be a hot dog inside a brat wrapped in bacon and smothered with onions, peppers and sauerkraut. And it's one-foot long. Oh, the humanity.
Some more fun facts about Target Field's concessions bracing itself:
- They've ordered a literal ton of peanuts.
- There are 5,000 orders of chicken fingers.
- Over 1,000 pounds of ground beef is ready to be made into burgers.
- There are 1,200 steak sandwiches and 700 orders of BBQ rib tips.
- They've stocked up 1,500 orders of french fries and 4,000 orders of nachos.
Now this is how you do an All-Star Game, America.