Quentin deserves stiff penalty for triggering Dodgers-Padres brawl
Carlos Quentin was wrong that Zack Greinke was trying to hit him with a pitch, and he should pay with a long suspension after breaking Greinke's collarbone when he charged Greinke.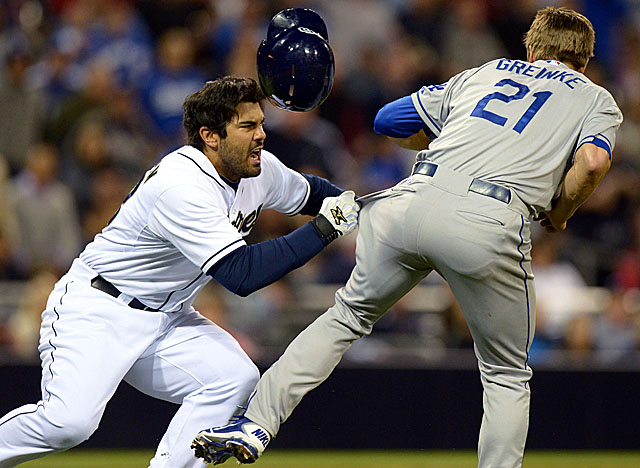 Padres star Carlos Quentin is right about there being a history here, which was one of his claims after breaking Dodgers star Zack Greinke's left collarbone in a needless, foolish baseball brawl he precipitated. But the reality is that it's Quentin's history that's instructive, and not necessarily the brief one between him and Greinke.
Quentin's history suggests he's hit by pitches a lot, more than anyone in the National League the last two years. That has more to do with his style than any particular pitcher's ire or intention. It's no coincidence he has led the league in being hit by pitches the last two years, and he did it both times without playing a full season.
Quentin has been hit more than 100 times by pitches in his history. He should understand that's not because he's A) unlucky, or B) disliked. That's because he stands on the plate and doesn't give ground. It's part of his considerable game.
Quentin's history suggests he understands it sometimes doesn't take a lot to knock a man out of action. He himself has missed significant time in a vast majority of seasons. It's what has kept him from reaching his potential.
Quentin, a former all-Califnornia outside linebacker, has suffered plenty of injuries without anyone 50 pounds his better tackling him unpadded on a baseball field. So he should know charging Greinke, a wisp of a man, comes with a decent probability of injury for the high-priced pitcher.
Quentin's history suggests, too, that he while he may never have charged a mound before, as he fairly pointed out, he isn't exactly temper free. One year he was on the way to a probable MVP before knocking himself out of action by slamming and breaking his right hand, virtually killing his MVP hope with a broken wrist, not to mention costing his White Sox dearly (he was unable to play in the playoffs).
Quentin is undoubtedly a very smart man, so he should have understood the situation a little better. And that is the main point. In the heat of a game sometimes it's hard to think too much. But he should know that in a 2-1 contest, with a 3-and-2 count, Greinke very likely isn't purposely trying to hit Quentin with a pitch.
Dodgers star Matt Kemp, who doesn't exactly get genius points for trying to confront Quentin in the hallway later and calling him a "bitch,'' (Kemp's lucky there weren't two injured Dodgers), is right for wondering aloud how a Stanford man like Quentin didn't understand that situation. I wonder the same. Dodgers manager Don Mattingly flat said it was "stupid'' to think the beaning was intentional.
Quentin, I think, wasn't thinking.
He got caught up in some history he and Greinke apparently have. This was the third time Greinke hit Quentin. Quentin also has three home runs against Greinke. That may constitute a history. But that doesn't add up to an intentional beaning -- not in a 2-1 game with a 3-2 count. A Stanford man should grasp that math.
Greinke, for his part, said afterward he has never hit Quentin on purpose but that Quentin always seems to think it's on purpose. Quentin alluded to the "documented'' history he has with Greinke, and urged writers to "look it up.''
Quentin told writers to "do your homework,'' not realizing most writers aren't Stanford men, like him.
Quentin also explained that he charged the mound after Greinke said something, but he wouldn't say what it was. He gave writers more homework on that. Which doesn't help.
If Quentin wanted to mound a defense, it can't be that Greinke said "something.'' That doesn't work in a court of law, and it shouldn't work here. And Quentin can't depend on writers interrogating Greinke without subpoena power and/or a klieg light.
"It could have been avoided,'' Quentin concluded afterward. "It's not on my side.''
I'd agree with half that. It could have been avoided.
Quentin was caught up in the history he with Greinke and probably also his hatred for Greinke. But if he had stopped to think about his own history of being hit and the situation, he'd have to think it was probably an accidental beaning.
He can't have it both ways. He can't have being hit by a pitch be part of his game (115 HBPs), then be upset at the pitcher when it happens.
Quentin and Greinke are both guilty of excessive macho. "It's a man's game,'' Quentin said afterward.
Greinke was smart to keep his $147 million pitching arm out of the fray, but he should have stepped to the side. He's on a new team and perhaps he wanted to show how tough he is, so it's understandable why he didn't pull the Guillermo head-for-the-hills play (Mota is famous for running away from Mike Piazza, like Quentin another exceptionally strong man) but he didn't need to lean in to Quentin, either, not when he's a skinny pitcher and Quentin is a former football player and a bull in a rage.
Quentin can't get the usual four-to-eight game penalty for charging the mound. It needs to be more, and significantly more.
The situation should be considered. So should the circumstance.
When Quentin, 240 pounds, runs directly at Greinke, he also has to know the chances for injury are very real. Greinke, pencil thin and at least that sharp, thought enough to lower his left shoulder (not his right pitching shoulder) into Quentin. But Greinke still incurred a broken collarbone, which is expected to knock him out of action for six weeks.
Mattingly suggested Quentin miss equal time. "He should not play a game before Greinke plays a game,'' Matingly said Thursday night after the Dodgers' 3-2 win over the Padres.
I'm not sure that's the case. As Greinke's pitch was not intentional, Quentin wasn't trying to break Greinke's collarbone. But players who charge the mound have to know there's a decent probability of injury, and there needs to be more deterrent than a penalty of four-to-eight games. I'd suggest at least 15 games in this case.
Baseball is determined to provide meaningful deterrents in drug cases, and in many ways that's a much more serious situation sice it goes to the credibility of the game. But Baseball should do something to try to deter needless, dumb on-field fights, as well.
Baseball brawls are rare, and usually don't do much damage. But this is a real loss for the Dodgers and a blow to their pennant hopes in what shapes up as a real battle with at least their rival San Francisco Giants, the World Champions.
The Dodgers didn't deserve this, no matter what Greinke may have said. Or Quentin may have thought.
Fifteen games is about right for Quentin. That would give the Stanford man something to think about next time, anyway.
The Nats will host the All-Star Game in 2018

The Orioles are looking to trade Machado heading into his walk year

The Cardinals have been linked for a while to the Baltimore star
Gallardo spent the first eight years of his career in Milwaukee

MLB revenues are at a record high right now, but teams aren't spending it on players

Chicago added Tyler Chatwood earlier this offseason but might not be done adding to the ro...