Rangers' confidence in Yu Darvish remains high down stretch
His velocity was down and his location was off in an unmitigated disaster in Wednesday's series finale -- and blowout loss -- in Oakland. The Rangers can absorb one bad start from their ace, but not many more in what shapes up to be another epic battle with the Athletics. ...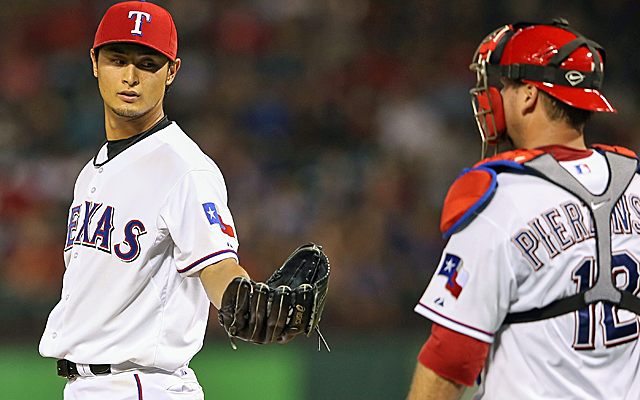 ANAHEIM, Calif. – Their grip on first place only a little less tenuous than Yu Darvish' command of the strike zone Wednesday, the Rangers arrived here for the weekend with folks still deconstructing that disaster and wondering what it might mean for Texas down the stretch.
Darvish, Cy Young-caliber all season, is starting to look a little frayed around the edges at the worst possible time. The Rangers have lost each of his past four starts, during which Darvish has produced a 4.50 ERA and, worse, 16 walks – including six in Wednesday's debacle.
Blip on the radar (gun) screen?
No big deal?
Glimpse into impending doom?
The Rangers say Darvish is fine, and that very well might be true.
"Wednesday notwithstanding, he's thrown the ball very well since the break," Rangers general manager Jon Daniels says. "It's been a combination of untimely home runs, lack of run support … a variety of things.
"Wednesday wasn't about that. Wednesday, he just didn't have it."
Addng to Wednesday's intrigue, Darvish and catcher A.J. Pierzynski had words on the mound at one point.
"Happens," manager Ron Washington says. "You might not have seen it happen in Japan because nobody questioned Yu Darvish. But hey, this guy [Pierzynski] has got 15 years of receiving.
He goes out there [to the mound], it's a battle, Yu don't want to hear it, P wants to tell it, it happens."
The radar gun indicates Darvish does not have the snap, crackle and pop he did earlier this year. His average four-seam fastball velocity Wednesday in Oakland was 91.87, according to brooksbaseball.net, down from an average of 94.23 in April. The readings on his sinker (93.05 in April, 91.33 in Oakland) and slider (82.80, 80.06) also have declined.
The August averages for those pitches also were down a tick from April – though not as much as Wednesday.
Daniels says that there is no reason to believe Darvish's velocity will stay down. He has not complained of any soreness. All other signs seem fine.
"I think everybody's velocity is down [at this point of the season]," Washington says. "But he is a pitcher, so velocity doesn't really come into play with him.
"He can change speeds, he can put a little on it, he can use different pitches."
Darvish, 27, is 12-7 with a 2.91 ERA over 27 starts this season. The Rangers gave him a break just before the All-Star Game by skipping one of his starts and putting him on the disabled list. He did not pitch in the All-Star Game.
At 179 2/3 innings pitched, no caution lights are going off. He worked 198 innings total last summer, including the 6 2/3 in the AL wild-card playoff game. He's worked as many as 240 innings in a season in Japan.
His 2,963 total pitches thrown ranked 15th in the majors as of Friday. Last year, his total pitch count was 3,166, which ranked 32nd in the majors.
The Rangers clearly are not concerned about fatigue, because they have shuffled their rotation to skip the fifth starter's turn to set up their pitching for next week's key stretch against the Pirates and Athletics. Darvish will start Monday night against Pittsburgh, and then next Saturday against Oakland. Originally, Darvish was slated to work Sunday's Oakland game.
"He had a bad day," Washington said. "I've seen Roger Clemens have one, I've seen many of them have bad days. Justin Verlander. He just had a bad day. Usually when his stuff is not as good as he would like, he finds a way to work through it. Wednesday, he just couldn't work through it. That's all that was."
Besides, the bad days have come more often than not against Oakland. In six career starts against the Athletics, Darvish now is 1-5 with a 4.86 ERA.
Nevertheless, what Washington sees right now is the same guy he's seen now for two seasons.
"He's Yu Darvish," Washington says. "One thing that people just don't realize, he's Yu Darvish from Japan … but he's human."
deGrom is set to become a free agent after the 2020 season

Perkins missed most of the last two seasons due to injury

Jonathan Singleton was suspended after a third positive test for a drug of abuse
Rodriguez will join Jessica Mendoza and Matt Vasgersian on the "Sunday Night Baseball" boo...

Jeff Wilpon talked about payroll on Tuesday, and it won't make any Mets fan happy

Yelich's agent recently asked the Marlins to trade him before the spring