Report: Reds, Homer Bailey far apart in contract extension talks
The Reds and right-hander Homer Bailey are discussing a long-term contract extension, but the two sides are still far apart according to an ESPN report.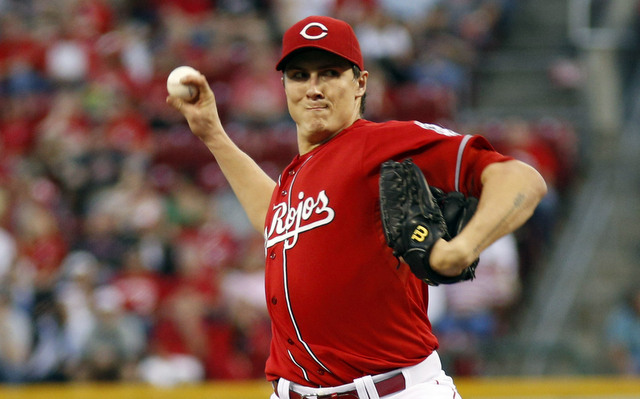 MORE: FA tracker: position players | FA tracker: pitchers
Even after letting Bronson Arroyo leave as a free agent, the Reds have a strong rotation led by Johnny Cueto, Mat Latos and Homer Bailey. Bailey is due to become a free agent next winter and the two sides are talking about a long-term contract extension, but right now they are nowhere close to a deal.
There's an enormous gap between the #reds last offer and what Homer Bailey wants in a long-term deal, source says.

— Jerry Crasnick (@jcrasnick) February 8, 2014
It's going to take some major compromise for Bailey to sign and avoid hitting the market as a free agent in November. #reds

— Jerry Crasnick (@jcrasnick) February 8, 2014
Bailey, 27, filed for $11.6 million in salary arbitration last month while the Reds countered with $8.7 million. He earned $5.35 million last summer and will surely be looking for Zack Greinke (seven years, $147 million) and Masahiro Tanaka (seven years, $155 million) money next winter with a strong 2014 season, if not more.
In 32 starts last year, Bailey set several career bests, including innings pitched (209), ERA (3.49), WHIP (1.12), strikeout rate (8.6 K/9), strikeout-to-walk rate (3.69) and WAR (3.2). He also tied his career bests in walk rate (2.3 BB/9) and home run rate (0.9 HR/9). Bailey has also thrown two no-hitters in his last 34 starts. Needless to say, his career is on the upswing.
According to Cot's, the Reds will open the year with a payroll right around $100 million, similar to last year. They currently have $68.7 million committed for 2015 but will have to deal with several pricey arbitration cases next offseason, including Cueto, Latos, Mike Leake and Aroldis Chapman, among others.
It seems unlikely Cincinnati will be able to keep the core of their rotation intact beyond next season without significantly raising payroll. Trading Bailey at the deadline for younger (and cheaper) players could be an option, but it may not happen if the Reds are in contention. This will be a situation worth monitoring all year for sure.
Opening Day will be Thursday, March 29 -- the earliest opening day in MLB history

The World Series champion and big-time wrestling fan was on hand Sunday night

The Brewers have very few payroll commitments moving forward
The new, lighter hats will replace embroidered logos with beveled rubber badges

Chipper Jones and Jim Thome join holdovers Trevor Hoffman and Vladimir Guerrero

Another team rumored to be interested in Stanton has confirmed their interest