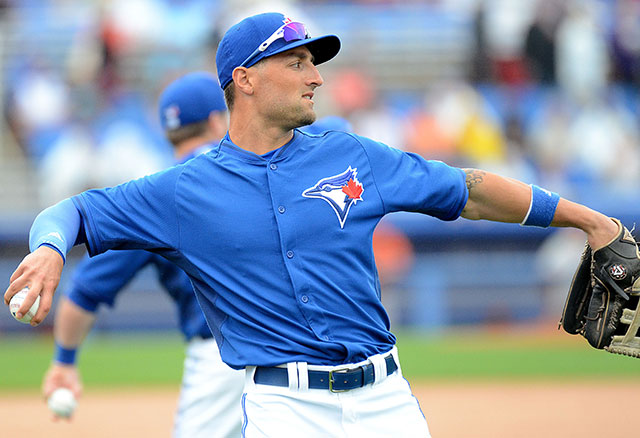 Kevin Pillar of the Toronto Blue Jays joined a peculiar but steadily growing list of ballplayers who have injured themselves sneezing. Pillar, who has been likely to start in Toronto's outfield on opening day, sustained a Grade 1 strain of his right oblique muscle because of an unfortunate pregame sneeze Sunday. The Blue Jays are restricting him to non-baseball duties for the coming week.
Pillar is at least the ninth major leaguer since 1985, and third for the Blue Jays in six years, to have sustained an injury by sneezing. Colby Rasmus in 2013 and Ricky Romero in 2009 were hurt by sneezes while playing for Toronto. As Bluebird Banter notes, perhaps the Rogers Centre ought to stay with artificial turf, instead of switching to grass, because of the hay fever risk.
Richard Griffin of the Toronto Star writes:
The Blue Jays have become more cautious when it comes to oblique injuries. In addition to Davis, they have lost Brett Lawrie, Brandon Morrow, Colby Rasmus and Brett Cecil in recent years. So when the injury was self-reported to trainers, they responded immediately.

"It was just a little sharp pain in my side and I didn't think much about it," Pillar said. "It was after the meeting (Saturday) and we only hit in the cage, so I made sure I just stretched out pretty good. I didn't want to say anything; It's not my style. I played with it (Saturday), didn't really feel it a whole lot.

"When they told me I was coming out in the fifth, after I had my at-bat I came back in the dugout, talked to (trainer Mike Frostad) a little bit, just asked him who was up (in the training room), wanted to get a little treatment. He asked me what was going on, and here we are."
Eight of the nine known sneezing injuries have come over the past 20 years — as have most oblique injuries — which makes you wonder if weightlifting somehow is related to either of the trends. Not to sound like a curmudgeon, but ballplayers in the 1950s never reported oblique injuries, or sneezing injuries, or sneezing injuries to the oblique. Did Willie Mays even have an oblique?
Here's a list of the nine on-the-record sneezing injuries:
• Goose Gossage, 1985: Hurt his back sneezing while warming up in the bullpen.
• Marc Valdes, 1995: Aggravated a rib injury sneezing in a cab.
• Russ Springer, 1997: Strained his lower back sneezing.
• Juan Gonzalez, 2003: Developed back spasms after sneezing during spring training — although the injury also was attributed to a bad mattress.
• Sammy Sosa, 2004: The most infamous one, he missed a month because of a strained back ligament sustained during two "violent" sneezes. 
• Ricky Romero, 2009: Felt a sharp pain in his right oblique after sneezing before a start.
Mat Latos 2010: Strained his left side while stifling a sneeze.
• Colby Rasmus 2013: Suffered a strained left oblique checking a swing and made the injury worse with a waking sneeze a few days later.
So, here's the lessons for you young players out there:
• Don't forget to work out your oblique muscles when lifting weights. Or just don't work out at all.
• Don't sneeze, ever, but if you do, don't try to stop yourself from sneezing, either.
• Don't play for the Blue Jays.