The difficulty of evaluating closers for Hall of Fame
Do you think the save stat is overrated or incredibly valuable? Your answer to that question might shape what you think of Lee Smith's Hall of Fame candidacy.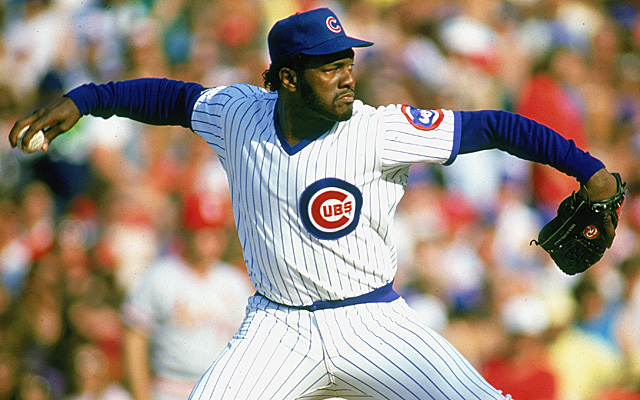 Axisa: Cases for, against Lee Smith as a Hall of Famer
As noted earlier Thursday by my colleague Mike Axisa, there are only five relief pitchers in the Baseball Hall of Fame and that includes Dennis Eckersley, who also was a starter for a large chunk of his career.
Thus, we're looking at a Hall of Fame nearly void of this particular specialization. Then again, the save is a relatively new stat to baseball and back in the early days, starters were expected to complete games. The idea of having a closer evolved throughout the modern era to what it is now: One guy who gets the ball in a save situation for the ninth inning. Given how the "position" has evolved and that this has happened recently, it makes sense that there aren't many closers in the Hall of Fame just yet.
But do we judge closers on the raw save stat or do we judge on dominance? This is where Smith's case takes an interesting turn.
In terms of raw saves, Smith should easily be a Hall of Famer. He ranks third in MLB in history in saves and doesn't appear set to be run down by many -- if any -- in the next several years.
But considering the save stat isn't going anywhere moving forward, would electing Smith set the bar too low in terms of what kind of dominance is expected of Hall of Fame closers?
Put it this way: The save is the most overrated stat in baseball when there's no context. A pitcher can earn a save by getting three outs before coughing up three runs while facing the 7-8-9 slots in the order. Please put aside all the stupid cliches about "the last three outs are always the toughest" because that situation is a very, very easy situation for a decent major-league pitcher.
Here's another scenario. Let's say a team is trailing by five runs and loads the bases in the ninth with two outs. A reliever can come into the game, allow a grand slam and then get the next batter on a warning-track flyout. He'd get a save because he entered the game with the tying run on deck.
So, yeah, without context saves as a raw stat are very overrated.
Thus, shouldn't we need dominance in a Hall of Fame closer?
Let's put Lee Smith beside four good-to-great closers from the past three decades. I'm inclined to think the general reaction to "is he a Hall of Famer?" for any one of these guys would cause a cascade of "no" votes in our comments section -- though I think one is a Hall of Famer and the guy who is still active has a chance to get there.
We'll leave out saves, but each of these four men next to Smith is among the top 19 in career saves and accrued at least 311. Instead of the counting stat -- saves -- let's focus on what shows dominance in the form of some important rate stats. That is, preventing the opposition from scoring (ERA and ERA+ -- the latter of which helps to bridge the gap between hitters' eras and pitchers' eras), keeping guys off base (WHIP), missing bats (strikeout rate or K/9), control (walk rate or BB/) and not blowing saves (save conversion percentage, or Save %).
Lee Smith's dominance?
Player
ERA
ERA+
WHIP
K/9
BB/9
Save %
Lee Smith
3.03
132
1.26
8.7
3.4
82
Tom Henke
2.67
157
1.09
9.8
2.9
85
Joe Nathan
2.76
158
1.09
9.6
3.3
90
Troy Percival
3.17
146
1.11
9.9
3.9
86
Billy Wagner
2.31
187
1.00
11.9
3.0
86
For those interested, Wagner is fifth of all-time with 422 saves, Nathan is tied for 10th with Rollie Fingers at 341 and Henke is 19th with 311.
Smith had 478, but was less dominant and less proficient at closing games out than these other four. Are you prepared to say Smith is a Hall of Famer because he compiled more saves while also saying Billy Wagner is not a Hall of Famer. Wagner's case is substantially better on every single front except the number of chances he was given throughout his career.
Say you believe Wagner is a Hall of Famer. OK, that's fine (and we agree). Is Henke? He was better at pretty much everything in the exact same era as Smith except the number of chances he got. Not only that, but he was the closer for a World Series champion in 1992, something Smith never was.
So were Henke's numbers so much better than Smith's because he pitched 14 years in the majors instead of Smith's 18 -- noting that Smith declined toward the end of his career as expected?
Nope.
Through his first fourteen years, Smith had a 2.91 ERA, 134 ERA+, 1.23 WHIP, 8.9 K/9 and converted 82 percent of his saves. Those figures are all worse than Henke's. Smith saved 401 games to Henke's 311, though, so again we're asking if getting more save chances makes someone better. I'm inclined to say it doesn't. Just look back at this past season. Jim Johnson led the AL with 50 saves, but he blew nine chances. Wouldn't you have rather had Greg Holland going 47-for-50 or Grant Balfour going 38-for-41? I would.
This isn't just about Lee Arthur Smith. For pretty much every other position, the Hall of Fame standards have long since been established, right or wrong. On closers, it's still being established. Mariano Rivera and Trevor Hoffman are surely getting in to the Hall of Fame and rightfully so. Billy Wagner should, too, but this discussion matters for the likes of Percival, Nathan, Jonathan Papelbon, Craig Kimbrel, Aroldis Chapman and all future stud closers.
There's no right or wrong answer here, just as there never is in Hall of Fame arguments. It's all subjective. The point is that electing Smith due only to raw save totals -- and make no mistake about it, that's why it would happen -- the precedent has been set that being a compiler of saves trumps true dominance in relief. If it didn't, Tom Henke would have gotten more than 1.2 percent of the vote his only year on the ballot.
If it really is about raw save totals, why didn't John Franco and his 424 (fourth-best ever) get more than the 4.6 percent of the vote he got 4.6 percent of the vote? His ERA and ERA+ are better than Smith's too.
There are layers to everything, of course, as Smith worked more than an inning in 169 of his saves, putting him behind only Hall of Famers Rollie Fingers, Goose Gossage and Bruce Sutter in that stat. So he began his career as more of an ironman closer -- as was the norm in the early 1980s -- before transforming into the one-inning closer we see nowadays later in his career.
For some, that gives Smith bonus points.
And that's fine, too. As I said, it's all subjective.
This much is clear, though, we need to look beyond just "saves" when evaluating whether or not a reliever is worthy of induction into the Hall of Fame. It's much more complicated to try and figure out the right balance between compiling and true dominance, but hey, that's what makes the discussion fun.