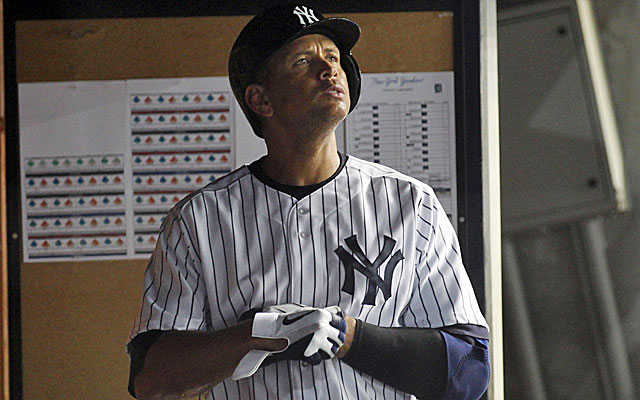 NEW YORK -- The topic was cheers and boos, and how many of each Alex Rodriguez heard Friday night.
We couldn't agree. I thought it was more boos than cheers. A few others thought more cheers than boos.
You know what's not subject to any dispute? That it was loud. That it was passionate. That it was about the only thing that really got a big Yankee Stadium crowd going, even on a night when the Yankees ended the Tigers' 12-game winning streak with a 4-3, 10-inning walkoff, even on a night when A-Rod went 0 for 4 with three strikeouts.
A few times over these last eight days, as the ballad of A-Rod has dominated your television screens (and your computer screens), some fans have complained on Twitter that "No one cares about A-Rod!"
Sorry, not true.
His return Monday in Chicago drew the Yankees' largest TV audience of the season. His Yankee Stadium return Friday night attracted just the Yankees' fourth sellout in 55 home games.
His four at-bats provided the most energy the stadium has felt all season.
Maybe you don't care. Maybe you wish that no one else cared. But the evidence is in.
America's baseball public, and especially New York's baseball public, can't get enough of this guy.
He's not the best player in the game. Miguel Cabrera of the Tigers, whose incredible at-bat and ninth-inning home run off Mariano Rivera sent Friday's game into extra innings, may well deserve that title. Batting with two out and a man on and with the Tigers down by two, Cabrera twice fouled a ball off his left knee, seemed to have trouble even walking around, then stepped in and hit a ball 420 feet off the greatest closer ever.
A-Rod isn't even the best player on this shell of a Yankee team. Manager Joe Girardi spoke Friday afternoon about how surprisingly "explosive" Rodriguez's swing looked this week in Chicago, but Friday night's game showed again that he can still be totally overmatched by right-handed pitching.
His totals so far against right-handers: 0 for 7, 5 strikeouts. And remember, A-Rod was 0 for 18 with 9 strikeouts against right-handers last October.
The Tiger starters the next two days are both right-handed, which could well mean plenty more strikeouts . . . and plenty more boos.
However you judged the reaction when A-Rod came to the plate Friday -- more cheers? More boos? -- there was no mistaking the booing after each of the three strikeouts.
But booing after strikeouts isn't exactly unprecedented. Rodriguez heard it last October, and he wasn't the only one.
The bigger question going into Friday was whether Yankee fans would boo A-Rod on principle, whether they would boo him simply for showing up. He was booed heavily in Chicago in his first series back, but that was hardly surprising. Rodriguez has been served with the biggest steroid suspension in baseball history, and the big steroid guys always get booed -- on the road.
History tells you it's different when they get home. Even A-Rod's own history tells you that. After his semi-admission of steroid use in 2009, fans in other cities booed and jeered. Yankee fans cheered and cheered, especially through the one successful October of A-Rod's career.
No one should be surprised. Brewers fans cheered Ryan Braun the last two years (and some still defend him now). Giants fans cheered Barry Bonds (and still do). Mark McGwire never lost his popularity in St. Louis.
Your steroid guy is a dirty cheat. Ours is a misunderstood guy who may very well have been falsely (or at the very least unfairly) accused.
Some A-Rod defenders make the same case now. I know. I hear it on Twitter, any time I post something the least bit negative about him.
We saw it Friday, with the fans who stood and cheered every one of A-Rod's at-bats. Some seemed to clap with their hands held high, as if to let all of us know that he still has their support. A few held up signs welcoming him back. Some even attempted to start a "Let's go, A-Rod" chant when he batted in the eighth inning.
But there were others -- just as many, it seemed -- who booed just as passionately. I'm not surprised. I got an email the other day from a man who said he had been a Yankee fan since 1961, but couldn't live with the idea of cheering for a team that would take A-Rod back.
Rodriguez has long been a polarizing figure among Yankee fans. He's long been a polarizing figure among baseball fans in general.
But as the evidence against him has piled up amid baseball's efforts to ban him, and as more and more have turned against him, his remaining defenders have upped their volume, too.
They did it Friday. They'll probably do it the rest of the season, for as long as he plays before his appeal is decided.
A-Rod himself turned down the volume Friday, deciding not to speak publicly either before or after the game. It hardly mattered. Unless he was going to go on another strange rant on the one-week anniversary of his last strange rant in Trenton, nothing he said was likely to change any opinions.
At this point, you may be saying, you don't care what Alex Rodriguez has to say. I'll buy that.
Just don't tell me nobody cares about him anymore. That simply isn't true.
Friday night did little to prove whether he's loved or hated by Yankee fans. But love him or hate him, there's absolutely no doubt that they care.