Tigers-Athletics Game 5 preview: Justin Verlander vs. Sonny Gray
The last game of the LDS round is upon us. It's Game 5 in Oakland, with Justin Verlander and Sonny Gray looking to repeat their Game 2 gem.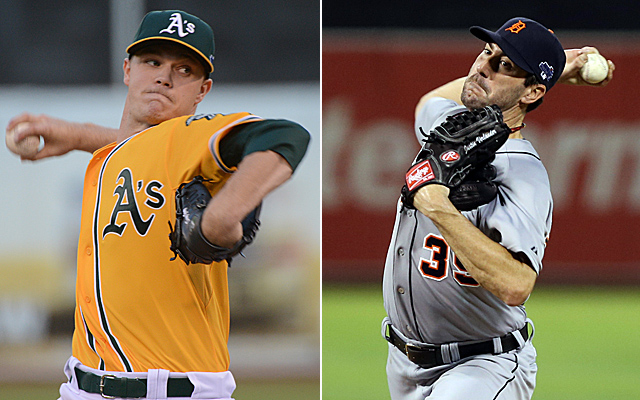 We just saw a do-or-die game Wednesday night, and now it's time for another. This time it's the Detroit Tigers visiting the Oakland Athletics. The game is set for 8:07 p.m. ET/5:07 p.m. local time.
Not only is Thursday's bout a rematch of an epic pitching matchup from Game 2 of this very series, but these two clubs also squared off in Game 5 of the ALDS round last season in Oakland. It was Thursday, Oct. 11, 2012, with Justin Verlander taking on Jarrod Parker. This time around, it's Thursday, Oct. 10, with Verlander taking on rookie Sonny Gray.
As mentioned, this was the same pitching matchup we had in Game 2 on this past Saturday. The two dueled to a scoreless tie entering the ninth inning before the A's won in walk-off fashion against Rick Porcello.
Verlander and Gray were magnificent. Verlander went seven shutout innings, allowing only four hits and a walk while striking out 11. Gray went eight shutout innings, giving up only four hits and two walks while striking out nine.
Might we see the same tonight? It's entirely possible.
The weather will cooperate, as there's a zero percent chance of rain throughout the game with clear skies and little wind, per weather.com.
Gray vs. visiting Tigers
We don't really need to go into much detail here. Gray has only faced the Tigers one time and it just happened in Game 2. That's his entire history against the club. He has never made a bigger start in his life, sure, but we could have said that last time around and he answered the call. To guess how he'll fare Thursday night either positively or negatively is a fool's errand.
Verlander vs. home A's
If history is any indication, things don't bode well for the A's offense. In Verlander's three career starts against the A's in Oakland -- both regular season and in the playoffs -- he has a 0.41 ERA, 0.73 WHIP and 28 strikeouts in 22 innings. He also dominated and beat them in Game 1 of the ALDS last season in Comerica Park.
Only Yoenis Cespedes (.333/.375/.467 with two doubles in 15 plate appearances) has had success against Verlander among A's regulars. Everyone else has either been mediocre or really futile against him.
Simply, all signs point to either another pitcher's duel or a Tigers win. The likelihood of Verlander failing here is unbelievably low.
But that's why they play the games. Stay tuned.