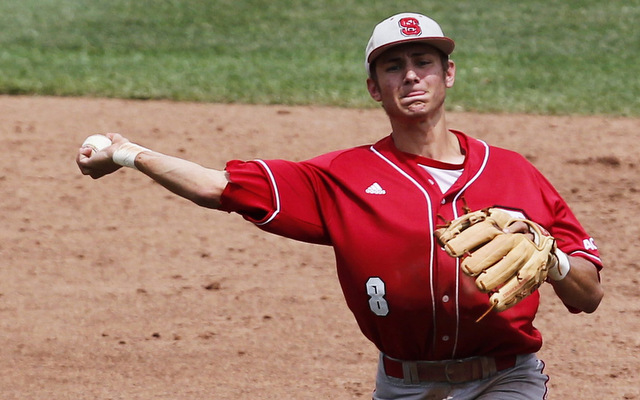 We hear about them all the time. Players to be named later, or PTBNL. They're usually featured in minor trades or as the last piece in a bigger deal. Most of the time these players are low-level minor leaguers and generally inconsequential, though Hall of Famer Dave Winfield and the serviceable Marco Scutaro were both PTBNL at one point in their careers.
According to MLB's rules, the PTBNL must be named within six months of the original trade. Teams commonly use PTBNL if the player would have to clear trade waivers in August or September, or is eligible for December's annual Rule 5 Draft. It's a way to delay the trade so player doesn't have to jump through those hoops to go to his new team.
There's another way teams use PTBNL, and we saw a perfect example of it this week, when the Padres agreed to trade shortstop prospect Trea Turner to the Rays as part of the Wil Myers swap. (The Rays then sent Turner to the Nationals for Steven Souza.) Turner was not officially included in the trade, however. He was a PTBNL because he was just drafted in June. By rule, players can not be traded until 12 months after signing their first pro contract.
So, instead of putting Turner in the trade right away, the Padres included him in the deal as a PTBNL and will send him to the Rays (and then the Nats) down the road. Turner was the 13th overall pick in the 2014 draft and he signed his first pro contract on June 16. He was officially included in the trade as the PTBNL on Dec. 19, so he can be named no later than June 19, 2015, more than 12 months after signing his contract. Got it? Good.
There's a small problem with this: Turner's an excellent prospect and even though he will soon wind up Nationals property, he's going to spend the next six months under the supervision of the Padres. Their coaches and staff will be looking after a player they have no long-term investment in. That isn't to say they will purposefully try to screw up his development, but he might not be treated with the same priority as he normally would. It also complicates things like living arrangements since he'd have to move midseason.
Turner's agent Jeff Berry is not particularly happy his client has to remain with the Padres these next six months until he can officially be named as the PTBNL in the trade. Here's what Berry told Ken Rosenthal of Fox Sports:
Turner's agent, Jeff Berry of CAA, told FOX Sports on Friday night that he "will vigorously pursue all available courses of action to remedy this situation," including a possible grievance in conjunction with the players union.

Berry said that it was "unconscionable" that Turner must stay with an organization that already has traded him and "has zero concern, motivation or interest in his health, development or performance."
For what it's worth, Nationals GM Mike Rizzo told Rosenthal they are "going to trust each other and do what's right by the player." They made the trade in good faith that the Padres will treat Turner the way they normally would a top prospect. That said, this is clearly a less than ideal situation. Turner is stuck in limbo for six months before he can be traded.
As J.J. Cooper of Baseball America explained, there is precedent for circumventing the PTBNL rule, though it is complicated:
In 1997, the Mets loaned 22nd-round righthander Andy Zwirchitz (pronounced Squeeze-its) to the Braves' high Class A Durham club from the start of the season. At the time, the Mets said that they simply had too many pitchers for their high Class A club—a roster that included Octavio Dotel, among others. So by sending Zwirchitz to the Braves, they opened up a roster spot.

...

What the Mets couldn't say is that Zwirchitz was tagged as the player to be named in an offseason trade that had sent Greg McMichael to the Braves for righthander Paul Byrd and a player to be named. Zwirchitz, a 22nd-round pick in 1995 who signed in '96 because he was a draft-and-follow from Okaloosa-Walton (Fla.) CC, wasn't eligible to be traded.

So Zwirchitz was loaned from the Mets to the Braves from March 19 to June 1 and was traded to the Braves on June 1, 1997. But because he'd been loaned, he didn't have to move. He didn't have to even change his spot in the Durham clubhouse. All that changed was who was signing his paychecks.
I suppose something like that could work for Turner -- the Padres could loan him to the Nationals -- but it has already been widely reported that he will be the PTBNL in the trade. It's no secret and MLB isn't exactly fond of teams circumventing its rules.
Given the emphasis on young players these days, it would make sense if there was no rule saying teams had to wait 12 months to trade their new signees. Instead of this PTBNL nonsense, just let them trade these players right away. That would give each team a new crop of trade chips at the draft each June and avoid uncomfortable situations like Turner's. There's no sense in making teams (and players) wait for trades.
Because young players are so important, I don't think the rule change would lead to a sudden spike in trades involving new draftees. Teams love prospects and want to keep them, especially their shiny new toys. (New Padres GM A.J. Preller didn't draft Turner, so he had no particular attachment to him.) One or two contenders may trade a recent draft pick at the deadline each year, but I would be surprised if it's any more than that. Besides, trades are fun and would generate more interest in the game.
Turner's situation is really unfortunate but it is within the confines of the rules. Hopefully Berry's impending action leads to some change because right now the rules are outdated. They don't really benefit anyone and I'm not sure when they ever did. Avoiding a situation like Turner's should be something the league addresses and soon.