Yankees prez Levine, Boras differ on what's been said in Soriano talks
Yankees president Randy Levine says Rafael Soriano's agent Scott Boras told Soriano he could get $60 million for four years on the open market. Boras denied saying that to Soriano, or to Levine.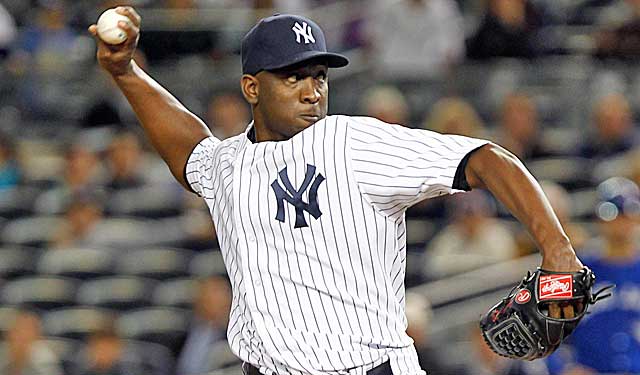 After converting 42 of 46 save opportunities in 2012, Rafael Soriano is angling for a longterm deal.
Two years ago Yankees president Randy Levine and agent Scott Boras got together to do an unusual deal to make closer Rafael Soriano a surprise Yankee -- when they already had all-time closer Mariano Rivera on the roster. And that deal turned out to work beautifully for the Yankees, they all agree now.
But today, they are starting a new negotiation in disagreement over what has been said so far. Soriano on Wednesday morning opted out of that first Yankees deal and the $14 million salary he would have made in 2013. Levine responded quickly, saying in a phone interview the move didn't shock him.
"I'm not surprised," Levine said. "We really like Raffy. But Scott Boras told the player he could get $60 million for four years. Let's see if he can do that. That would make it understandable why he would opt out. I wish Sori well."
Boras disputed that he ever named a total price, saying Levine asked a few times for a number he could "take to Hal," but that he declined to do so. Boras said he only suggested that the per-year number would have to be above $14 million since he's opting out of the $14 million but that he didn't talk about years.
"Randy and I had a discussion. He requested us to make an offer. At this time, we thought it best to file before making any proposals to the Yankees," Boras said. "I never make promises as to what the free-agent market might bear. I'm in the business of providing information to my clients and negotiating on their behalf. I'm not in the business of promising my clients contracts."
Boras also said of the number Levine attributed to him, "People can make logical conclusions. I am happy he feels he has a feel for the value of the player."
Soriano received $1.5 million for opting out, and with the Yankees expected to make the qualifying offer of $13.3 million on Friday, he would receive $14.8 million on a one-year deal if he were to accept that offer.
But assuming Soriano declines the qualifying offer, that would set things up for an interesting negotiation on a multiyear deal. The Yankees are thought to be willing to offer Soriano a two-year deal, especially now that Rivera has said he may retire.
The first Soriano deal, which seemed like an extra expense to some when that contract was consummated, helped save the Yankees this year after Rivera was lost for the 2012 season following a knee injury. But to repeat it now, the sides may have work out their early difference of opinion over what was said in negotiation so far.
Gonzalez was reportedly killed in a car crash in Cuba

Our Black Friday FA shopping guide includes a starting pitcher, slugger, super sub, and re...

Get 15 percent off any order of more than $75 at CBS Sports Shop
Need a gift for someone who loves baseball? We're here to help as the holidays approach

Several prominent Japanese-born Mariners and ex-Mariners have said they will help as well

Get your sports fans something that they'll wear all year