Yanks, Cano have work to do to reach deal before free agency hits
One of a few issues appears to be the Yankees pegging the star second baseman as a "top 10'' player while Cano's agent, Scott Boras, suggests he's in the top five.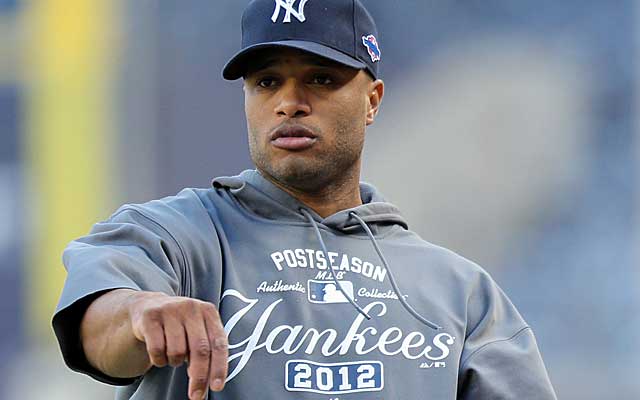 Is Robinson Cano an 'elite' player? His next contract may depend on the answer. (US Presswire)
TAMPA -- The Yankees recently began multiyear contract negotiations with star second baseman Robinson Cano, but a resolution appears nowhere in sight.
Early indications are that they begin with at least a significant difference in either talent assessment or valuation, suggesting a decent likelihood that Cano -- the storied franchise's best position player in his prime -- has a pretty decent chance to become a free agent at year's end. While the sides won't admit he's sure to hit free agency, at the very least it's clear there's plenty of work to do.
Word is, early on the team has suggested they considered Cano a "top 10" or maybe at worst a top 15 player in the game, while Cano, following three straight top-six finishes in American League MVP voting, seems to be thinking a bit higher than that.
"There are few elite players. That just is a very short list -- less than five," Cano's agent Scott Boras said by phone of his client.
Yankees owner Hal Steinbrenner recently revealed to Yankees writers that the sides have had "a conversation or two." But left unsaid at the time is where things stand.
"Robinson is happy being a Yankee, and both sides recognize that this is one of the elite players in the game," Boras said.
Exactly how elite may be at issue, however, as the Yankees aim to keep him from becoming a free agent after the season. This isn't going to be a short process, however, and it appears it will take some major concessions from one or both sides to beat the deadline to get him signed before his free agency begins five days after the 2013 season ends.
Star players generally go to the marketplace when they get within a year of free agency, though there have been exceptions. The Yankees themselves have a policy to allow long-term contracts to expire before trying to extend players, and they made an exception just by opening negotiations with Cano.
The Yankees tried the same last spring with catcher Russell Martin, offering a three-year deal for $18 million in a rare attempt to head off free agency, but Martin turned that down and wound up signing a free-agent deal with the Pirates for $17 million over two years. Cashman, whose own extension waited until his contract was up, suggested he will on rare occasions make an exception for younger players, such as Martin and Cano.
"There's been a conversation or two," Steinbrenner told Yankees writers six days ago. "We'll get into that, and we'll talk about it at a later date. He's been a great Yankee, and we hope he's here his entire career."
Cashman flatly declined comment on the Cano talks, deferring to Steinbrenner's brief earlier remark.
This is obviously a touchy subject.
Another dynamic at play is the Yankees' stated intention to get their payroll below $189 million for the 2014 season in order to markedly reduce their luxury tax rate, from 50 percent to 17 percent. However, the verbiage has changed in recent days; it was once said to be a mandate to go below $189 million, now they refer to it as a "guideline." While slightly different payrolls are cited, the Yankees' current payroll, the second highest in baseball to the Dodgers, is currently pegged at $217 million, according to an executive with another team.  
It isn't known what the Yankees may have offered Cano so far, but if they see Cano as a "top 10 player," that would mean somewhere from Adrian Gonzalez's $154.3 million deal and up. Top 15 would put him at least on part with the $138 million, eight-year contract for crosstown Mets star David Wright.
The average of the top five contracts, from Alex Rodriguez's $275 million Yankees deal down to Joe Mauer's $184 million contract (Albert Pujols $240 million, Joey Votto $225 million and Prince Fielder $214 million are in between), is $223 million.
Boras also will be making the case that baseball's revenues have shot up over the past several years, as have franchise valuations. "The marketplace has dramatically changed from five years ago," he said.
Also likely at the center of the talks will be a disagreement over term. Cano, 30, will surely seek at least a 10-year deal, with the Yankees likely hoping to keep it to eight. A-Rod got his 10-year Yankees deal at age 32.
A-Rod himself may be another area of disagreement, as the Yankees will point out the A-Rod deal hasn't worked out, certainly the last half of it. Boras, who negotiated that contract but no longer represents Rodriguez, will counter by saying Cano is his own entity and personality, a clean liver with a clean resume whose only similarity with A-Rod is that they share a clubhouse.
The Dodgers and Braves pulled off a whopper on Saturday

Sabathia will reportedly spend a 10th season in the Bronx

Fowler suffered a knee injury at Chicago's Guaranteed Rate Field
The lefty starter is coming off a terrible season

After acquiring Ian Kinsler and Zack Cozart in recent days, the Angels are trending upward

Cozart's coming off a big season as the Reds' shortstop