2014 NBA Playoffs: Conference semifinals schedule
The conference semifinals are set, with Portland facing San Antonio and the Clippers and Thunder squaring off in the West while Indiana takes on Washington and Miami faces Brooklyn in the East.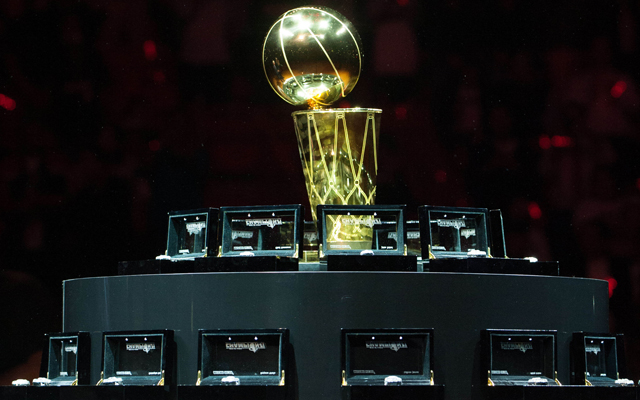 The NBA announced their preliminary schedule for the conference semifinals, AKA the 2nd round Saturday night. Here are the 
Information shown includes tipoff time (ET) and broadcast network. 
Western Conference
Oklahoma City (No. 2 seed) vs. L.A. Clippers (3)

Game 1: Mon., May 5, L.A. Clippers at Oklahoma City, 9:30 p.m., TNT
Game 2: Wed., May 7, L.A. Clippers at Oklahoma City, 9:30 p.m., TNT
Game 3: Fri., May 9, Oklahoma City at L.A. Clippers, 10:30 p.m., ESPN
Game 4: Sun., May 11, Oklahoma City at L.A. Clippers, 3:30 p.m., ABC
Game 5 (if nec): Tue., May 13, L.A. Clippers at Oklahoma City, Time TBD, TNT
Game 6 (if nec): Thu., May 15, Oklahoma City at L.A. Clippers, Time TBD, ESPN
Game 7 (if nec): Sun., May 18, L.A. Clippers at Oklahoma City, Time TBD, TNT
San Antonio (1) vs. Portland (5)

Game 1: Tue., May 6. Portland at San Antonio, Time TBD, TNT
Game 2: Thu., May 8, Portland at San Antonio, Time TBD, ESPN2
Game 3: Sat., May 10, San Antonio at Portland, Time TBD, ESPN
Game 4: Mon., May 12, San Antonio at Portland, Time TBD, TNT
Game 5 (if nec): Wed., May 14, Portland at San Antonio, Time TBD, TNT
Game 6 (if nec): Fri., May 16, San Antonio at Portland, Time TBD, ESPN
Game 7 (if nec): Mon., May 19, Portland at San Antonio, Time TBD, TNT
Eastern Conference
Miami (2) vs. Brooklyn (6)

Game 1: Tue., May 6, Brooklyn at Miami, Time TBD, TNT
Game 2: Thu., May 8, Brooklyn at Miami, Time TBD, ESPN2
Game 3: Sat., May 10, Miami at Brooklyn, 8 p.m., ESPN
Game 4: Mon., May 12, Miami at Brooklyn, Time TBD, TNT
Game 5 (if nec): Wed., May 14, Brooklyn at Miami, Time TBD, TNT
Game 6 (if nec): Fri., May 16, Miami at Brooklyn, Time TBD, ESPN
Game 7 (if nec): Sun, May 18, Brooklyn at Miami, Time TBD, ABC

Indiana (1) vs. Washington (5)

Game 1: Mon., May 5, Washington at Indiana, 7 p.m., TNT
Game 2: Wed., May 7, Washington at Indiana, 7 p.m., TNT
Game 3: Fri., May 9, Indiana at Washington,  8 p.m., ESPN
Game 4: Sun., May 11, Indiana at Washington,  8 p.m., TNT
Game 5 (if nec): Tue., May 13, Washington at Indiana, Time TBD, TNT
Game 6 (if nec): Thu., May 15, Indiana at Washington, Time TBD, ESPN
Game 7 (if nec): Sun., May 18, Washington at Indiana, Time, TV TBD
The Pacers believe the Lakers tampered with Paul George before they traded him

Among the questionable decisions by Jackson was signing Noah to a long-term, lucrative dea...

This Akron store doesn't want their hometown hero to leave again
Milwaukee's star did not get cleared to play for his national team due to a painful knee i...

Ball, the second overall pick in the NBA Draft, is receiving even more hype

Rap mogul supports the vision the outspoken father has for his brand and sons