Could the Lakers land Thibodeau?
Tom Thibodeau has three more years on his contract, and the Bulls are under no obligation to let the Lakers interview him about their head coaching position. But after Doc Rivers left the Celtics for the Clippers, the coaching business changed.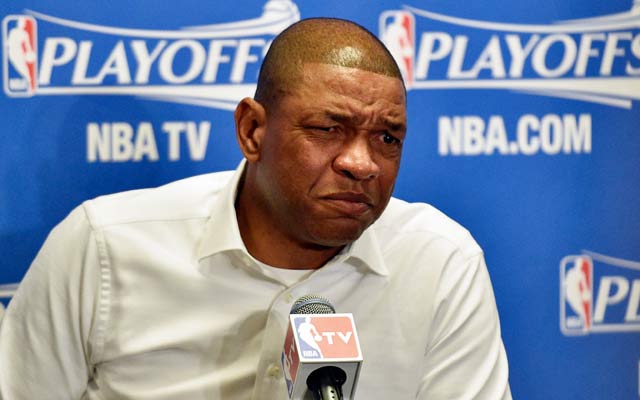 More on Lakers: LA wants Thibodeau | Where do Lakers go from here?
Can the Lakers land a head coach who is under contract to another team? Probably not, but it should be noted: The Clippers did.
As of Thursday, the first full day of yet another head coaching search for the Lakers, the team had yet to ask the Bulls' permission to interview Tom Thibodeau for the job, a league source told CBSSports.com. ESPNLosAngeles.com's Dave McMenamin reported that the Lakers plan to do so.
The friction between Thibodeau and the Bulls' front office has been well documented, but the reality is, Thibodeau is under contract with Chicago through the 2016-17 season. That used to be the beginning and ending of all speculation about head coaches under contract when jobs opened up around the league.
Then, Doc Rivers happened.
Rivers had three years and $21 million left on his contract when he parted ways with the Celtics amid Boston's rebuilding effort last summer. It cost the Clippers a first-round pick to assume the balance of Rivers' contract (after the league squashed any notion that Rivers could be included in any trade involving Kevin Garnett and Paul Pierce). It all made sense, given that the Clippers needed Rivers much more than they needed that pick. If that hadn't been the case -- if the Clippers' roster hadn't been championship-ready -- Rivers wouldn't have wanted to go, anyway.
The Lakers' situation is much different. They'll have a lottery pick in the upcoming draft, but given how bare their talent cupboard is, they need a good young player more than they need a prominent coach. No knock against Thibodeau or, say, Bobcats coach Steve Clifford (a favorite of Kobe Bryant's), but neither one can post up or beat anyone off the dribble.
Ultimately, the ball will be in the Bulls' court as to whether they want to let Thibodeau entertain a shift to the West Coast. There isn't much incentive for them to do so. And besides, the Lakers would do better to upgrade the talent of their roster first.
But members of the coaching industry are starting to believe that we'll see more coaches under contract change teams, following Rivers' example. There are only 30 of these jobs, and the list of talented people capable of making an impact in them is short. Thibodeau, without a doubt, is on it.
A dive into the NBA history books for every result from every NBA All-Star Game

James set the tone during practice that this year's All-Star Game was going to be differen...

The 76ers center handled 'mismatches' like they were nothing
LeBron James says he will continue his social activism no matter what people say about him

The 76ers guard is in hot water after a controversial video surfaced showing him using a racial...

LeBron James earned his third career All-Star Game MVP award