David Blatt finally admits coaching in the NBA is harder than he thought
Cavaliers coach underestimated the egos, distractions, schedule, and practice restrictions when he made the jump from Europe. What does it mean about his coaching job?
It's hard to remember now, but David Blatt came in as coach of the Cleveland Cavaliers with a flurry of warm and fuzzy feelings from media. He was the darling new coach that was going to bring the European sensibilities that many attributed to the San Antonio Spurs, stressing the kind of ball movement and open play that had just won the Spurs the NBA championship. Even his players early on were talking about him as a "genius."
Then the season began.
The Cavaliers struggled out of the gate, and continued to struggle until January when two key trades and a revitalized LeBron James put them on a tear. The offense wasn't beautiful so much as it was just incredibly over-complicated, which prompted a total reversal as the Cavaliers became one of the biggest isolation-heavy offenses in the league over the last half of the season. Throughout all of this, Blatt wasn't just humble and confident, but outright brash and defensive. He bristled at any suggestion he was a "rookie coach" based on his extensive overseas experience. 
Essentially, Blatt felt that the NBA could not be that different from what he had experienced in Europe. This, of course, was total madness due to the complex differences not only in egos, money, rules, schedule, and culture, but because the NBA is stylistically dissimilar and athletically superior while lacking a lot of the fundamental background many European players learn at an early age. Blatt didn't want to admit that coaching in the NBA is unlike any other coaching challenge, and that came off poorly, especially when he faced substantial, consistent, and honestly, at times, unfair criticism. 
I was critical of Blatt from the start of the season when the offense looked like a Rube Goldberg machine, all the way through when there were rumors of Blatt's imminent dismissal. I argued at that point that he didn't deserve a pink slip, but that there were very real criticisms to address.
Then a cool thing happened. He coached like mad in the playoffs. Yes, there was the unfortunate timeout incident. And yes, LeBron overruled Blatt on a key late-game possession. But Blatt made consistent defensive adjustments game to game, series to series, and honestly, out-coached Brad Stevens, Tom Thibodeau and Mike Budenholzer, even if he did have a talent advantage with James. 
In the Finals, every media member getting their first exposure to Cleveland would marvel at how the team interacted with Blatt. It's ... different, let's say that. It doesn't seem like a particularly close relationship. Still, GM David Griffin was insistent -- as he was throughout the season -- that Blatt would return as head coach. He survived the offseason which means James must not have that big a problem with him to want him gone. 
It took Blatt a full season, and a mountain of sewage rained on his head from critics, but Blatt has finally admitted that the NBA is a bit more difficult than he thought it would be. From the AP: 
"When I came to the NBA I was under the impression that this was going to be a breeze," Blatt said. "I've been coaching for 23 years at the highest level in Europe. I coached in the national-team environment, coached professional teams, coached Euroleague teams and I thought I thought I knew basketball and I thought I knew how to coach. Which, in my mind, I did.
"But I realized that when I came over here it was a very, very different game with a whole new set of problems and a whole slew of things to deal with inside and outside of the game."
Source: Blatt talks about what he learned in 1st Cleveland season. 
Now, in that interview with the AP, Blatt's not saying it was X's and O's. He's mostly talking about ego management, roles, the hectic and difficult schedule, and the fact that there are restrictions on how much you can practice in training camp. He jokingly says he wishes there wasn't a player's union. (Note to David: If NBPA Executive Director Michele Roberts hears this, she's' going to denounce you. It doesn't matter if you were wearing a clown costume doing standup on Letterman Colbert. She'll fight just about anything.) However, even the slight change of attitude is a good look.
Ultimately, this all comes down to appearances. Blatt coached his team to the Finals and a 2-1 series lead without two of their All-Stars. Even if there were questions and issues, there were no more so than any good coach and just as he deserved criticism for the struggles, so too does he deserve credit for their successes. It's all about how you portray yourself. Steve Kerr was beloved as a coach by the media because he's personable and comes off as "Aw, shucks, I just have great players and great assistants. I'm just lucky." That's not true in any capacity, Kerr's coaching was phenomenal last season, especially for the situation he dropped into. But he knew how to sell it. 
Maybe that's the real adjustment Blatt needs to make in the NBA. Not how to do the job, but how to sell it to a media environment unlikely anything he's experienced before. 
HT: SLAM Online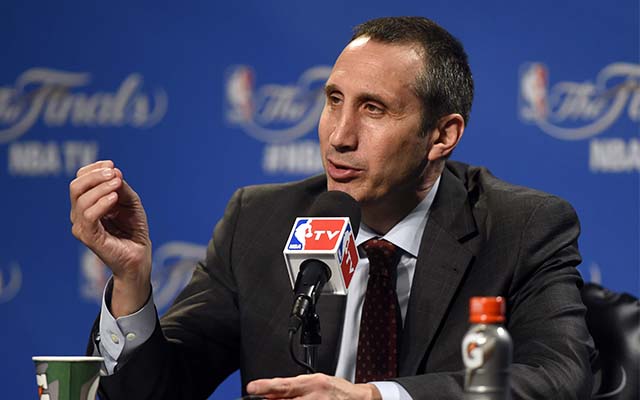 The Blazers guard was a guest on the Sirius XM radio show 'Sway in the Morning'

L.A. reached a three-year jersey ad patch deal with Wish, a San Francisco-based e-commerce...

John Paxson doesn't intend to buy Wade out without some sort of compromise from the 3-time...
Lonzo's signature shoes have a sleek, all-black design and will be available in November

Durant recently apologized for tweets criticizing the Thunder and Billy Donovan

Jackson says he has 'no respect' for Durant after KD created fake Twitter pages