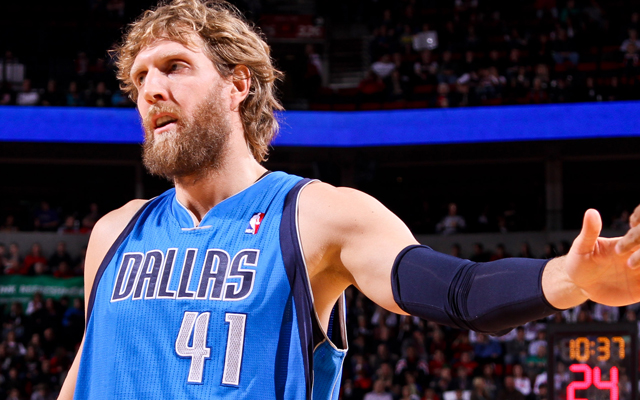 Dirk Nowitzki told local radio in Dallas this week that part of his pitch to free agents Chris Paul and Dwight Howard is that he'd be willing to take a pay cut after his current deal expires in order to make cap room and add flexibility. From the Dallas Morning News: 
Nowitzki, who will turn 35 on June 19, said part of his sales pitch to (Chris) Paul and (Dwight) Howard will be that because he's a free agent at the end of next season, Nowitzki is willing to take a significant pay cut to add more talent.

"I think I'll sign another deal, 2-3 years, I'm not sure," Nowitzki added.
via Dirk Nowitzki discusses Mavericks' pursuit of 'two monsters' Chris Paul, Dwight Howard | Dallas Mavericks Blog.
Smart, smart ploy by Nowitzki here. One of the big keys now for free agents isn't just about their deal, and joining a team with established talent, but being able to add better players down the line.  You have to be able to improve the roster after you get the core in place. Nowitzki taking that pay cut would go a long way in helping that.
That decision, combined with the Mavericks' cap space this summer and the rest of the money coming off next summer, would put the Mavericks in place to add great roleplayers. They could build a team with actual free agent instead of reling on desperately trying to convince veterans past their prime to come. 
Still, the money would be tight if both Howard and Paul were to come. It might honestly be better for Dallas to only get one or the other. That said, they're still unlikely to get either, so maybe focus on what you can get. But this move will help with Nowitzki's recruiting efforts.