Heat's Chris Bosh will opt out and become a free agent
Miami Heat big man Chris Bosh will opt out of his contract and become an unrestricted free agent.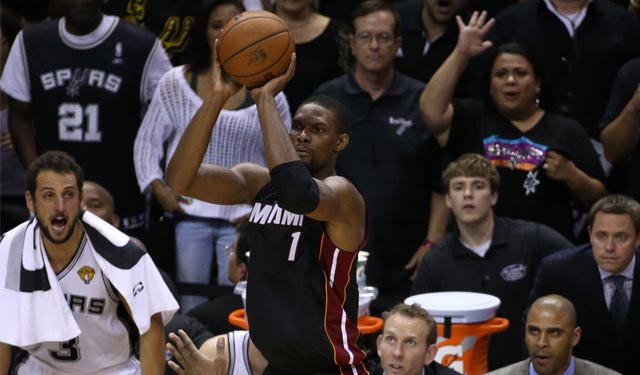 More Offseason Analysis: Coaching changes, news | Free Agency | Draft
How the Miami Heat are able to transform their roster has always been entirely dependent upon LeBron James, Dwyane Wade, and Chris Bosh opting out of their current deals to create some theoretical cap space flexibility. LeBron was the first one to reportedly inform the Heat and others that he was opting out. Wade followed suit this weekend when it was reported he'd opt out of $42 million over the next two seasons to become a free agent. Now the triumvirate has been completed with Bosh doing the same.
Tim Reynold of the Associated Press reported Bosh has informed the Miami Heat of his intention to opt out of the final two seasons of his contract and become an unrestricted free agent. CBSSports.com's Ken Berger has confirmed that report. With reports of LeBron, Wade, and Bosh discussing the future structures of their three contracts with the organization, the news of Bosh falls in line with everything that's been reported. 
AP Source: Chris Bosh told Heat this afternoon he is exercising his early termination option and will become a free agent. Link to come.

— Tim Reynolds (@ByTimReynolds) June 29, 2014
If Bosh truly wants to hit the market and possibly be wooed by other franchises, he could quickly become one of the most popular free agents behind LeBron James and Carmelo Anthony. This summer is going to be one of the most important offseasons in league history, but if the Heat decide to keep their Big Three together, the amount of potential chaos diminishes dramatically. 
Bosh has been phenomenal since reducing his individual statistics by joining the Heat and becoming more of an ultimate utility player for Miami. Instead of demanding to be a 20-10 guy every night like he was in Toronto, Bosh has accepted being a center over a power forward, an outside shooter over a post player, and a star role player instead of someone demanding the spotlight every game. Erik Spoelstra has often called Bosh the most important piece to the Heat's success and plan over the last couple years and keeping his versatility and commitment to winning is key to the next era of the Heat.
Have the Clippers reportedly found their next GM?

The NBA stayed to the point in their response to the Greek basketball federation

The Pacers believe the Lakers tampered with Paul George before they traded him
Among the questionable decisions by Jackson was signing Noah to a long-term, lucrative dea...

This Akron store doesn't want their hometown hero to leave again

Milwaukee's star did not get cleared to play for his national team due to a painful knee i...