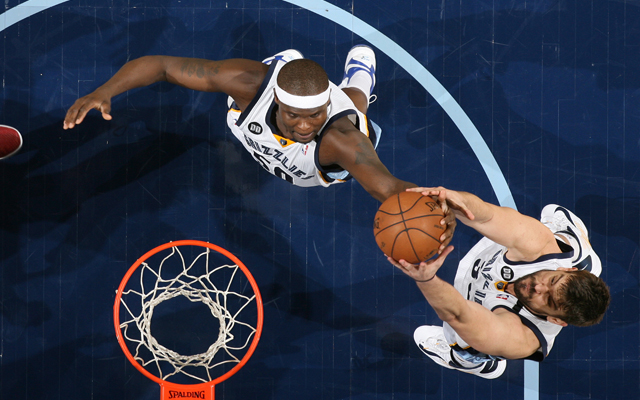 They are, in many ways, a throwback.
Two true big men playing side-by-side for the Memphis Grizzlies, thriving with size and physicality in an era of finesse, versatility and athleticism. In a game that has become defined by spacing and speed, they stand out as the twin towers of the West, rising out of the Tennessee pines.
Zach Randolph and Marc Gasol are either the most unlikely superstar duo you'll find or a simple Southern recipe for success: the rare combination of brawn and intellect, or what happens when you put two talented big ol' boys together down low.
The answer lies somewhere in the middle.
An unseasonably warm early spring day in Denver sees Marc Gasol and Zach Randolph on a couch in a hotel suite, sitting across from me showcasing both their contrast and easy fit beside one another.
Gasol has shed the long, black trench coat that he sports that makes him look like a cross between the Punisher and the Undertaker with better facial hair. He's leaning forward, walking me through why the players added in the Rudy Gay trade have more to get used to than just their surroundings, when Randolph comes in and makes himself at home.
Randolph has two bags of snacks and two drinks as he settles in. He's easy going, calm and manages to walk the line between bemused and genuine. But first, Professor Gasol is finishing up.
"It's the whole thing," Gasol said of the transition process for Tayshaun Prince, Ed Davis and Austin Daye. "It's us getting to know them, them getting to know us. It's them seeing different schemes and learning different things that we do than what they're used to. Both teams they were traded from, they show defensively. The big shows up, and the other big rotates, especially on the side pick-and-roll. And we're not. We keep on the side. And when the guy steps up, we pressure the ball and try and trap it. It's different, and it takes time."
It takes about 45 seconds with Gasol to recognize that his basketball intellect is likely top five in the league. It's the first thing that Randolph mentions about him, the first thing that his coach, Lionel Hollins, mentions about him.
"[Gasol is] very aware," Hollins said the next day at shootaround. "He's got a high basketball IQ. He sees things and recognizes them and talks to guys. He's a very good help defender. He knows when to go double. He knows when to trap, when the clock is going down. He sees things and directs people like a goalie behind them. He knows how to keep his body in front of people and make people score through him."
If the Grizzlies' first playoff win in franchise history two years ago was Gasol's arrival party, this season has been the victory lap in his emergence as the best overall center in the league. As the Grizzlies have gone from Western Conference laughing stock to fringe contender, Gasol has gone from the punch line used to describe how much the Lakers fleeced the Grizzlies in the trade for his older brother to arguably the best center in the league.
"I think Marc should be first-team All-NBA at the center position," Hollins said. "I don't know anyone playing better who's at center."
But Gasol's not leading the league in rebounding. He doesn't fill up highlight reels (though this one ain't bad), and he wasn't elected to the All-Star Game. His numbers are, if anything, unspectacular. He's not a 20-point scorer. He's not a double-digit rebounder. He doesn't shoot better than 50 percent from the field.
So what makes him so good?
"The guy's IQ of basketball is so high; he's so smart. I think he's the best big man in the league because of his intangibles and the things he does," Randolph said.
One of those things is defense. Gasol has developed into a serious Defensive Player of the Year candidate. Just getting noticed is impressive, considering he plays alongside another perennial candidate in Tony Allen, and the Grizzlies' defense is known as much for attacking the passing lane and pressuring the ball as it is for maintaining position.
Gasol said the secret to balancing the two is all about who's around you.
"You just know your personnel. You know our own tendencies. Know what Tony likes to do, what Mike likes to know and what the opponent likes to do. Knowing the guys and how the other team plays and try and stay a little ahead.
"It depends on who you're playing, really knowing the game to process the understanding of what guys like to do. Chris Paul -- he likes to cross over and go back to his right if you give him too much space. He's going to probe, probe, probe to try and create space. You've got to know how the big will roll and where the help defense is coming from.
"Knowing the guys around you helps the game slow down. You get to read and see it. Good offense is always going to beat good defense. But if you try and take away some of his stuff and make him a little uncomfortable -- you just try and do little things to keep them from playing freely and do what they want to do."
Meanwhile, Randolph said making other guys more comfortable, knowing how to factor that and communicating those things are what makes Gasol so invaluable.
"High-low. Making plays. Talking on defense. Being there. How to get back. He makes up on mistakes. You lose your guy; he's right there, helping. He's a leader. He's always talking on defense. As he goes and I go, we go."
And the Grizzlies are going. Winners of 16 of 22 since the trade of Gay that supposedly ended their championship contention, the team has refocused around Gasol and Randolph to tremendous success. The trade of Gay was franchise-altering, and the reaction was a bit baffling. The Grizzlies were criticized for granting Gay's monstrous, $80 million contract, then blasted for getting it off their books. Critics constantly asked late in games, "Why is the ball not going to Randolph or Gasol but to Gay for mid-range jumpers?" then said this team was "done" because it lost Gay for "nothing." The talk got to the Grizzlies a little bit.
"Everyone said, 'They're done; they're going to fall to the sixth, seven, eight seed,' " Randolph said with an obvious disgust. "It got our motor pumping, and we dropped a few games. But then we started playing and getting our identity back, and the guys we brought in started getting comfortable. We got back to who we are."
Randolph's a huge part of that identity. When the "Grit-Grind" culture emerged for Memphis, which really sparked its run of success, Randolph became the poster man alongside Allen for it. They became the team that's willing to go the extra mile to claw for a loose ball, who's reliant on making the right play, not creating highlight reels. Randolph sums it up masterfully.
"This is us. Scrappy, grit'n'grind, hustling. We ain't fancy. We ain't running up and down the court throwing lobs and doing windmills," he said.
"We in the mud."
And "in the mud" is where he and Gasol do the most damage. So many teams have gone small in the NBA, as much for what they're able to do in those lineups as what they can't in traditional sets. Multiple bigs create spacing issues. But for Memphis, it allows their best players to work together.
If you want the perfect example to bust the "soft Euro" prototype that has no place in the league, Gasol's a pretty good start. Deft with his passing, soft with his hook shot, Gasol has also established himself as one of the toughest guys inside with his strength and toughness.
It should be noted that while Gasol is proud of his Spanish heritage and nationality, the man wasn't exactly going through a culture shock when he joined the Grizzlies in 2008. Gasol went to high school in Memphis when brother Pau was drafted by Memphis; his parents have lived in nearby Germantown, Tenn. That's part of what made it so easy for him and Randolph to bond when Z-Bo arrived in 2009.
"We'd just interact together," Randolph said. "He grew up playing AAU with a lot of guys from south Memphis and north Memphis that I know. He'd been in Memphis. He'd been around Memphis most of his life. He went to school at my daughter's school. We just hit it off."
From the start, you could tell the two were developing a bond, one that has continued to this day. They're the first to rush over and help the other up after getting knocked down on a play, the first to intercede when an altercation occurs with the other team. (Something that happens quite a bit with Memphis' physical play.)
Randolph said having a player like that beside him makes going toe to toe with the brutality down low a lot easier.
"It's big. It's not the same league as it was when I came here 10 years ago. The league has softened up with a lot of guys. It's good to know that you've got your other big right there with you in the trenches, on the frontline. He's not going to be in the back acting like he doesn't see what's going on. And if someone's on the court talking, he's not going to back down and vice versa. That's what I like about him; he's got a lot of heart. He's got a lot of will."
Gasol said that connection makes them both succesful.
"I think it's more that bigs look out for their bigs. Zach knows that when I get the ball in the post, my first read is him. And I know it's the same with him. We understand the game the same way. And we're both willing passers. When you care about someone on the floor and you've got their back, it's always going to give them confidence."
And they balance one another out. Since the Gay trade, the shots have to go somewhere. Randolph, the leading scorer for Memphis since the trade, feels it's his job to step up and carry the load. When he does, there's a chain reaction.
"It's kind of evened out, because now Marc's picking it up. Mike's picking up. Tayshaun. I expect guys to be like that, to be aggressive. And if Marc's got it going, keep feeding Marc. If I've got it going, keep feeding me. And that's how we've got to play."
For his part, Gasol, who blistered the Clippers last week from mid-range, isn't going to be changing anything; he just wants to keep making the right play.
"I just try and play what's there," he said emphatically. "I don't take 25 shots a night. I'm not that kind of player. I try not to force shots. Sometimes when the shot clock is down, you have to take bad shots. I'll always try to take the best shot that's available. If I see a guy open, I'm going to try and hit him. If I feel like he has a better shot than I do, it's automatic. It's hard for me to be like, 'Oh, he's open, [but] I'm not going to pass it.'"
But if the Grizzlies are going to make the jump from plucky underdog to title contender in the playoffs, they're going to have to rely on that team concept that worked two years ago -- what has become known to fans as the "Grit-Grind" approach. Randolph noted the team originally fell into adopting that approach when Gay went down in 2011 with a shoulder injury.
"It kind of evolved," Z-Bo said. "When Rudy went down and got hurt, it kind of became, 'OK, this is how we're playing. We're locking people up. Move. Rotate. Scramble.' We created that identity."
Hollins said he thinks that it's more a dedication to the entire game than a mantra.
"I think the name came mostly from the fans and media. Grinding is nothing more than staying with it possession by possession and trying to get a win. Some teams are good one quarter and then fade. We try and stay consistent throughout the entire game."
Process-oriented: a familiar theme among the NBA's best, which the Grizzlies are quickly joining. And as they rise, they're bringing the city of Memphis with them. The two have become not only at the forefront of the team on the court but off it. Randolph donated $20,000 this winter to assist with the utility bills of families in need. Gasol has become a regular appearance at children's hospitals. The two are making an impact in the community, making the Grizzlies more than just a basketball team.
"It's amazing, how from when I got here to where we are now," Randolph said. "The fans have embraced us. The city's behind us. The games are crowded and almost sold out. I love this city. I can relate to them. If they trade me tomorrow, I'm still going to be in Memphis. I'm still going to be paying people's utility bills from wherever I'm at. It's always going to be my city."
For Gasol, this is the only way that it can be.
"I don't think there's another way to play basketball," he said. "When you play in a city, you have to play for the people that are there. You're representing them everywhere you go. When you play in Denver, or LA, you have Memphis across your chest.
"I think when you play with that pride and know you're representing people at home, you play with a different mindset. It doesn't matter, it's not about you, it's about your team and the people back home."
That's the story of Memphis' rise to a Western power. All heart, grit grind, the blue-collar city with the blue-collar brothers down low.