James Harden confident he'll have extension with Thunder before Oct. 31
With doubt building as the deadline for an extension closes in, one person is extremely confident his future in Oklahoma City is assured: James Harden.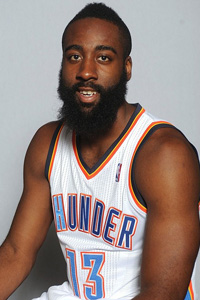 Harden doesn't want this to be his last appearance in a Thunder uniform at media day.
(US Presswire)
OKLAHOMA CITY -- With doubt building as the deadline for an extension closes in, one person is extremely confident his future in Oklahoma City is assured: James Harden.
At the Thunder's annual media day on Monday, the NBA's reigning Sixth Man of the Year was very straightforward answering questions about the uncertainty surrounding him. The clock is ticking, and he knows it. Thirty days until the deadline, until Harden becomes a restricted free agent. Does he think this thing really will get done by Oct. 31?
"Yeah. Sure," he said matter-of-factly. "That's why I'm not too worried about it. Not at all."
Harden has said multiple times previously he wants to stay with the Thunder. Of course, that begs the question: If that's the case, then why isn't it done?
"That's up to my agent and Sam [Presti]," Harden said. "I let them deal with that contract situation. Right now, my focus is basketball."
That was Harden's message, more than once, as he was asked repeatedly about his future with the Thunder. He's leaving it all up to his agent and Presti. But what about the talk of him taking less to stay with the team -- talk that he started himself following OKC's playoff exit?
Is Harden still willing to sacrifice to stay with the Thunder?
"Oh yeah, yeah. Sacrifice," Harden said. "I think everybody on this team has sacrificed in their own way just for the better of the team. I think that's why we're so close. Like I said, I think everything will work itself out eventually."
That sacrifice, of course, would mean taking less with an extension and avoiding restricted free agency where Harden would almost certainly be offered a max. Something reportedly that Harden has declared he wanted. But he says that's not the case.
No, no," Harden said when asked if he only wants the max. "Like I said, I'm not really worried about that. I'm not focused on it. I'll let my agent and Sam figure out all those numbers and everything like that. I'm just focused on hooping, hooping and bettering myself coming off that Sixth Man and bettering myself as a basketball player."
Why is he so confident about it when it seems like an extension is more unlikely than likely, especially given the luxury tax problems that come with being a small market like the Thunder? How can he seem so sure?
"'Cause I know. I know," Harden said. "I have confidence in my agent and the organization to get it done. They know how important it is. I'm sure it will be done."
Is this rock bottom for the Cavaliers because it sure feels like it is

Wade, as he's done so many times in his career, threw it up to LeBron for the thunderous f...

The Warriors coach added there should be no shame in being picked last since everyone's an...
We've got all the scores, highlights and news from all of Saturday's games

The two teams have reportedly not had any substantial discussions to this point

Oladipo may be getting most of the shine, but this second-year big man has been phenomenal...