Kevin Love trade agreement could have more twists and turns
Due to an NBA rule prohibiting the Cavaliers from trading Andrew Wiggins until Aug. 23, an agreement to acquire Kevin Love from Minnesota could have more twists and turns, league sources tell CBSSports.com.
More Offseason Analysis: Coaching changes, news | Free Agency | Draft
The Timberwolves have agreed to send Kevin Love to the Cavaliers in a blockbuster deal that immediately boosted LeBron James' chances of delivering a championship to Cleveland, three league sources confirmed to CBSSports.com on Thursday.
But due to an NBA rule that prohibits trading draft picks until 30 days after they've signed their rookie contracts, the agreement is not binding until Aug. 23 -- opening a two-week window with the potential for more twists and turns in a saga that has dragged on for weeks.
The agreement would send Love to Cleveland for 2014 No. 1 pick Andrew Wiggins, 2013 No. 1 pick Anthony Bennett and a protected 2015 first-round pick. But the deal cannot be consummated until a 30-day moratorium on Cleveland's ability to trade Wiggins has expired.
Simply put, the terms of the trade can be re-examined in the meantime, or either side could decide not to finalize the deal, league sources said. The whole scenario erected a tightrope between Cleveland and Minneapolis that both teams will have to walk for 16 days. Neither team was confirming the arrangement Thursday, for fear of reprisal from the league office over the 30-day rule, sources said.
On one hand, rules are rules. On the other, a deal is a deal. Both teams will face enormous pressure from all parties involved to honor their word.
"In this business," one party involved in the talks said, "nothing is done until it's done."
The intent of the 30-day rule is to prevent drafted rookies from becoming pawns that teams can use acquire free agents or prospective free agents. In this case, assuming the Cavs and Wolves finalize their agreement, it's only a matter of time.
The Cavs' motivation stems from James' desire to add another All-Star for his homecoming. Similarly, Wolves president and coach Flip Saunders will feel the heat from Love and his New York-based agent, Jeff Schwartz, to deliver Love to the Cavs.
But as one league source connected to the negotiations said Thursday, what if Golden State emerged with an offer that would finally include coveted shooting guard Klay Thompson in a deal for Love?
"Flip will get amnesia real quick about any existing deal," the person said.
The Warriors haven't spoken with Minnesota for weeks about Love trade scenarios, another league source said. That's due in part to their long-held reluctance to include Thompson in the discussions, but also due to the fact that the Cavs and Wolves settled on these basic deal points weeks ago -- before Love pulled out of his Team USA obligation, one of the league sources said. One rival GM told CBSSports.com that Minnesota has been exploring a separate trade with Philadelphia for Thaddeus Young, who would replace Love in the Wolves' starting lineup.
One aspect of the agreement between Cleveland and Minnesota that has not yet been agreed to, according to two league sources, is a contract extension for Love. If Love opts out next summer, he could get a five-year, $120 million deal from the Cavs. But with James, the sole trigger for the deal, working on a two-year deal with a player option next summer, the two people familiar with the discussions said Love may want to wait and see how long of a deal James agrees to next summer so the two stars can synchronize their plans.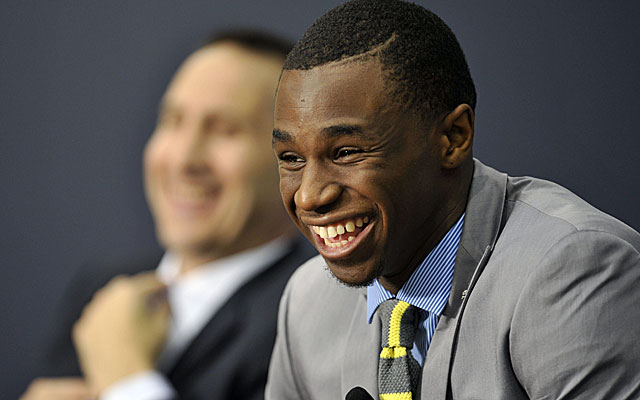 Thomas took to Twitter to let the Celtics know he doesn't want to ruin Pierce's night

The Hall of Famer's jersey was retired by the Celtics in 1982

It's rare to see a legit punch in an NBA fight, but this was definitely one of them
We've got all the scores, highlights and news from an NBA Tuesday

The former Slam Dunk Contest champion will take his talents to Tri-State

Do NBA players have look-a-likes from famous paintings? We found out on the new Arts & Culture...