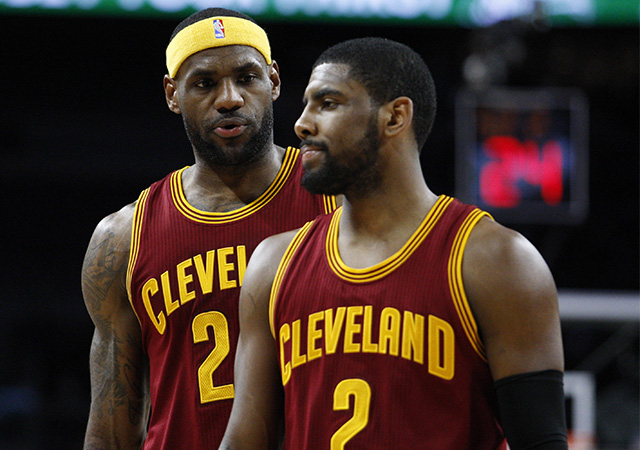 Kyrie Irving and LeBron James spoke with Cleveland.com about their relationship as teammates and its evolution this season, and it's a really entertaining and insightful read. It balances the line that so often creates polarization on both sides. When there were rumors of discord this season, with James talking about teammates playing selfishly, there were legitimate problems between the two.
It didn't mean the problems weren't fixable, but those screaming doom were just as wrong as those that adamantly protested that everything was fine. Now Irving beams when talking about their relationship, and it's apparent from watching them on court how close they've gotten. But there was one story Irving told that was really interesting. After an early season loss to the Jazz in which Irving dropped 34, James blew Irving up for the fact he had no assists. From Cleveland.com: 
After the game, James wasn't thinking about the loss or about that last defensive breakdown. He was miffed that Irving scored all those points without registering a single assist.

"He came up to me and was like, 'One, you can never have another game with no assists,' " Irving said, describing James' words. " 'You can damn near have just one, two, three, but you can't have zero.' And I was like, 'All right, cool, it won't happen again.' And it hasn't happened since that game."
via After a rocky start, LeBron James and Kyrie Irving now see the game together, their own way | cleveland.com.
There's been debate over Irving this season because some have felt he's unfairly maligned for his low assist figure (he's averaging a career-low 5.0 assists per game). But James obviously felt this was a problem. Irving hasn't improved in that area (he actually had just 4.9 per game in March) but there's been a more willingness to spread the ball. The Cavs are still isolation-heavy (the highest number of ISO possessions per game via Synergy Sports) but they're headed in the right direction. 
Irving goes on to talk about in the article how great their relationship is, even if there's still obviously a little tension. (James talks about the age difference between the two, which Irving balks at. And Irving keeps talking about how he feels there are things James can learn from him, which, I believe the appropriate response is "LOL.") But it does show you how far the Cavs have come this season. There were problems, they addressed it, they've improved. 
Now, about that Kevin Love situation...