LeBron James (leg cramps) is 'feeling good' for NBA Finals Game 5
Miami Heat All-Star forward LeBron James said he will be ready to go for Game 5 of the 2012 NBA Finals against the Oklahoma City Thunder after leaving the fourth quarter of Game 4 with leg cramps.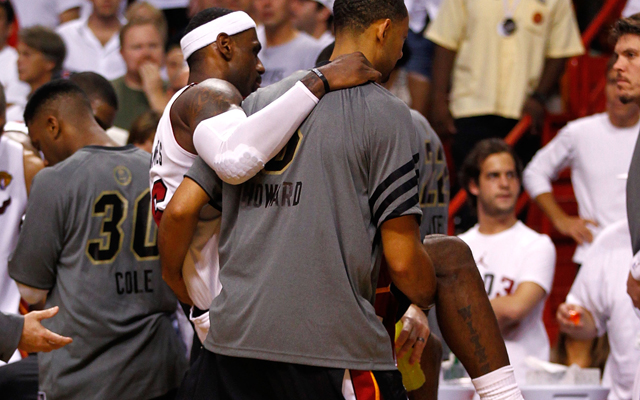 LeBron James left Game 4 with leg cramps on Tuesday night but said he was "feeling good" afterwards.

(Getty Images)
The Miami Heat will have the opportunity to win the 2012 NBA Finals on Thursday night and LeBron James made it sound like leg cramps will not stand in the way of his chase for his first ring.
Leg cramps forced James to leave the court during during the fourth quarter of a 104-98 Game 4 win over the Oklahoma City Thunder. James went to the ground while attacking the basket. He got up gingerly, in evident pain, and the Heat were forced to call a timeout to attend to him with 5:15 remaining as they held a 92-90 lead over the Thunder.
Heat coach Erik Spoelstra confirmed after the game that James had merely suffered cramps and not a more serious injury.
"LeBron had cramps," Spoelstra said. "We talked about it -- in his leg. We talked about it before the game, that you had to play with an intensity that you had nothing left by the end of the game, and he did. He was playing at an incredible pace and intensity level. It was warm in the building. I think you guys probably felt that. And he just had some cramps there at the end." 
James appeared for his post-game podium press conference and said that he was feeling "better" and gave no indication that he would be unavailable for Game 5.
"I'm feeling a lot better," James said. "I'm feeling good. We'll see how I feel tomorrow."
Heat staffers applied ice and massaged James' leg as he drank Gatorade. At one point during the sideline treatment, he screamed in pain.
"I knew I wasn't injured," James said. "I just knew I had cramps. I've had it before. Your muscles basically just lock up on you, so I tried to walk, but they wasn't letting me move. So our trainer, Jay [Sabol], and Juwan [Howard] came out and assisted me to the bench. I wanted to walk to the bench, but my legs wouldn't allow me.But I've been there before. I've had cramps before, like I said, and it's not a pleasant feeling. But I'm happy that we've got a great training staff, a great organization, and they helped me get back on my feet. I was able to walk up here and talk to you guys." 
James was able to briefly re-enter the game with 4:05 remaining in the fourth quarter -- and even hit a dramatic, go-ahead 3-pointer over Thunder guard Thabo Sefalosha to give Miami a 97-94 lead.
"I mean, the ball was swung to me, and the shot clock was going down," James said. "I just wanted to step up and try to make a play.  You know, and I was able to drain that three and give us a lift.  I was just trying to make a play.  If I was out on the floor, I wanted to try to make a play with the limited mobility I had at that time, and I was happy I was able to come through." 
The cramps continued, though, and Heat coach elected to return James to the bench for the game's closing minutes.
"[The cramps] really didn't really go away," Spoelstra said. "At that point he was just trying to will his body to get in there and make something happen. That three was just sheer will and competitiveness, to contribute in some way. But it got to a point that it was four-on-five, so we had to make a change. He wanted to go back in, but it was obvious that he was going to hurt us if we kept him out there." 
James finished with 26 points, nine rebounds, 12 assists and 2 steals on 10-for-20 shooting in 44 minutes. 
He's played an extraordinarily heavy load of minutes during the postseason. During the 2012 NBA playoffs, James has averaged 42.6 minutes per game, up from 37.5 minutes per game during the regular season. He's played 40+ minutes in 12 straight games. During The Finals, James has averaged 44 minutes per game.
The Head lead the Thunder in the 2012 NBA Finals 3-1 with a chance to close it out at home in the American Airlines Arena on Thursday night.
Another day, another social media beef for Embiid

We have all the latest scores, highlights and news from Wednesday's NBA games

Thomas spent a day with a 10-year-old girl whose family is also new to Cleveland
Barkley did not hold back with his opinion of the Big Baller Brand patriarch

LaVar Ball also made it clear he thinks his sons are being placed in 'a great situation'

The Thunder are just 12-14 on the season, despite the addition of Paul George and Carmelo...