Michael Jordan earned more in 2014 from sneakers than in playing career
The Greatest of All Time has a ridiculous amount of money, and very little of it came from his time as a player with the Bulls.
PBS' Newshour did an in-depth investigation into the economics behind modern sneaker culture and developed a very long and in-depth infographic on the industry. Among their findings was a shocking number ... well, some people might find it shocking. 
Michael Jordan made just over $94 million from contracts in his NBA career.  Last year, his ties from Jordan Brand netted him $100 million: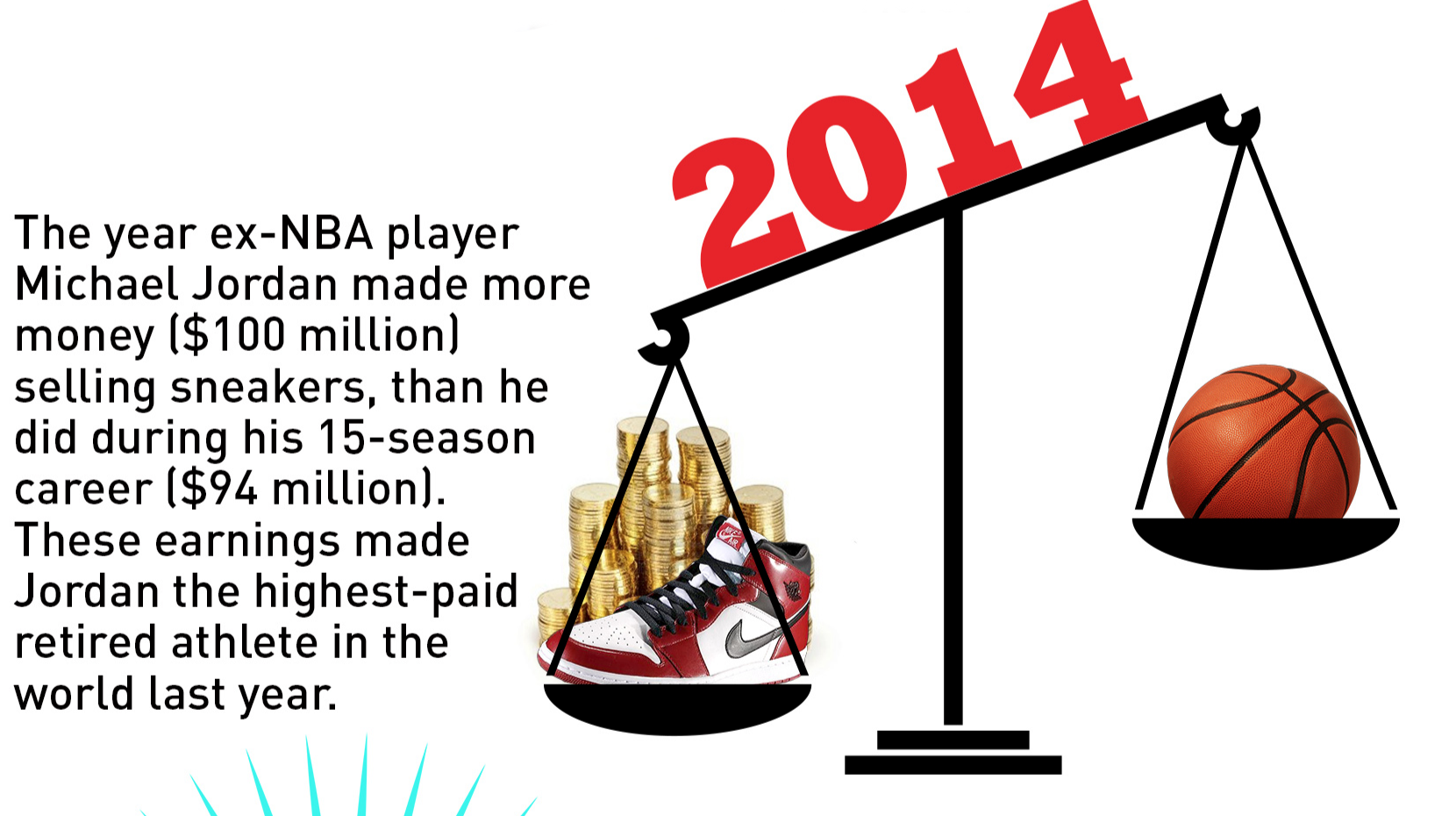 Jordan's finances were recently disclosed in a court case, and surprise, he makes an obscene amount of money, over a decade after he retired. The fact that he pulls in more per year than his playing career seems crazy ... until you put it into context. 
Let's go ahead and throw out inflation (Jordan's $4 million salary in 1994 would be over $6 million today). Jordan also entered the league in 1984, when the league was just beginning its largest profit expansion in its history. Were Jordan, with his talent, to enter the league today, he'd start off higher. Jordan, as a No. 2 pick in 1984, had a salary of less than a million, Karl Anthony-Towns will make $5.7 million this year with the Minnesota Timberwolves. Jordan topped out at $33 million in 1997 before the salary cap was instituted, but his first deal off his rookie contract started at a measly $2 million. He'd be looking at between $15 and $20 million in today's market. 
Jordan also played for Jerry Reinsdorf, and the tense negotiations between Jordan and Bulls ownership was detailed in Playing For Keeps by David Halberstam. Reinsdorf has a long history of balking over big expenditures with the Bulls. He wasn't going to be the first to break the bank, even for his Airness. 
Jordan redefined the shoe industry, and that's created that unprecedented amount of revenue. No one else has their own shoe company. Jordan helped make Nike, the most powerful athletic wear company on the planet. 
So naturally, he's made more money than he made in salary. In reality, the hefty money today's stars make can be traced back to the value Jordan showed for a player and the way he changed the game's economics. Still, it's a nice way to illustrate the point that remains: Michael Jordan makes an unfathomable amount of money as a retired player.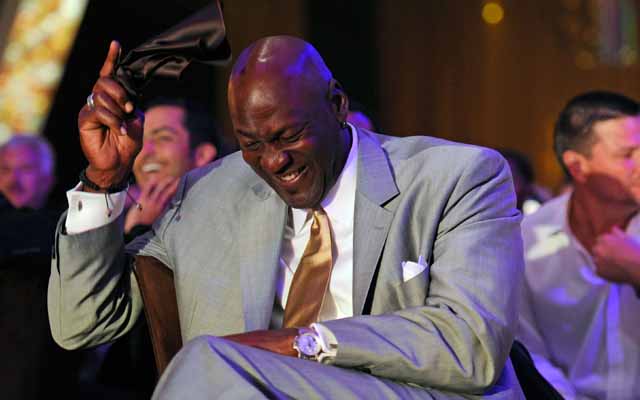 We've got all the scores, top plays and news from a busy NBA Friday

Butler didn't put any pressure on his right leg as he was helped to the locker room on Fri...

Our advanced computer model simulated Saturday's Magic vs. 76ers game 10,000 times
Several playoff contenders could use the services of Ilyasova, who's nearing a buyout agre...

Durant says he probably wouldn't have gone to college because he 'needed the money'

Ball, who has missed the last 15 games with a sprained MCL, will be on a minutes restricti...