NBA Playoff Machine: Sunday, April 21
The NBA playoffs continue Sunday and Playoff Machine will update with news from Hawks-Pacers, Lakers-Spurs, Bucks-Heat, and Rockets-Thunder
by

Eye on Basketball staff

• 8 min read
We tip off the second day of the first round of the 2013 NBA playoffs with our Playoff Machine. Here you'll find updating images, analysis, reactions, video, and more from the action Sunday. This post will update regularly with news, analysis and hilarity, so keep coming back, campers. 
Previews: Eastern Conference | Western Conference
Podcasts: Eastern Conference | Western Conference
Let's get this thing started! 

Update 12:15 a.m. ET:
The Oklahoma City Thunder turned what should have been a pesky opponent that won't go away into roadkill. With a 120-91 victory over the Houston Rockets, the Thunder established their dominance in convincing fashion. The Thunder took care of every aspect of this game. The only thing the Rockets did better Sunday night was rebound on the offensive boards. They beat the Thunder 11-5 on offensive rebounding, which is much easier to do when you're shooting 36.3 percent and OKC is shooting 53.0 percent.
Every other statistical measurement in a basketball sense was in the Thunder's favor, and not many of them were very close. Kevin Durant had 24 points on 7-of-15 shooting. Russell Westbrook had 19 points, 11 assists, and eight rebounds. Serge Ibaka had 17 points, with many of those points coming on long jumpers. 
The bright spot for the Rockets in this game was Patrick Beverley off the bench. He had 11 points on 10 shots and four assists. That was the bright spot for the Rockets in a playoff game. It's easy to expect the Rockets to make this more of a series going forward because they probably can't get dominated much more than they did Sunday night. 
Update 12:00 a.m. ET:
Update 11:35 p.m. ET: 
Perkins is now a point guard. Welcome to the new world. 
Update 11:00 p.m. ET: 
Might want to get that shot to the glass quickly, so it's a goal tend when Serge Ibaka comes flying in.
Update 9:49 p.m. ET: 
Reaction for James Harden's introduction: 60 percent boos, 40 percent cheers.

— Royce Young (@dailythunder) April 22, 2013

Update 9:39 p.m. ET: 
LeBron makes playoff announcement: 
There's no longer any hesitation. He doesn't have to figure anything out. He's not waiting to find his role or how to attack. He simply moves on the floor and watches the game curl around his fist like a gauntlet of smoke.
This is LeBron James in his prime, and he is ready to claim his throne again. (Click here for more on LeBron from Matt Moore.)
FINAL 110-87: The Heat are better, LeBron is better. This was what you'd expect. LeBron took over in the second half, the Heat kicked it up a gear, and the body language from the Bucks was terrible. They were basically expressing "We tried to tank out of this spot but Philadelphia was too bad. Why do you keep hitting us?" It's going to take a miracle or an injury for the Bucks to win a game in this series. 
Update 9:10 p.m. ET:
This is LeBron James' shot chart through three quarters. Going to go out on a limb and say this is pretty ideal for any player. 
Oh, and this happened: 
Update 8:18 p.m. ET:
First-half Update: The Heat played poorly. Brandon Jennings has 18 points (on 14 shots). The Bucks have 10 offensive rebounds to the Heat's three. The Heat have 11 turnovers to the Bucks' six. The Heat played poorly in most phases of the game. And they're up seven.
The Bucks are hanging. Keeping the turnovers down keeps the Flying Death Machine from taking off. They're playing fundamental basketball, and when that fails, Brandon Jennings is doing Brandon Jennings things.
Is it enough? Well, no. But it's a start. 
The Heat are honestly in a position where they can only meet expectations by blowing out the Bucks. They cannot exceed them. And Milwaukee is playing with pride. We'll see if the Bucks can get hot and make this thing into something truly surprising. 
Update 7:37 p.m. ET:
LeBron James can probably jump higher than we can. 
Update 7:20 p.m. ET:
Say what you will about Miami Heat fans, but they know how to put on a free white T-shirt when they're in their seats. (Photo via the Miami Heat's Instagram account)

Game 1
Update 7:15 p.m. ET:
The Lakers probably have enough firepower left in their personnel to be able to hang with the Spurs when they just have to contend with Tony Parker attacking consistently from the perimeter. Steve Blake's defense on Parker was fairly good for much of the game and Steve Nash, if relatively healthy, should be able to combine enough with Blake's production to match what Parker is capable of producing on the court.

However, when you throw a healthy and productive Ginobili into the mix and only have Jodie Meeks left at your disposal, the Lakers become so far behind the level of talent and execution on the perimeter in this series that they seem pretty hopeless in their goal to advance to the second round.
-- Manu Ginobili too much for out-gunned Lakers by Zach Harper
The Spurs were outrebounded, had fewer points in the paint, and shot worse from the field. So how do you pinpoint Duncan as part of the winning solution?

Because of what makes him great. All the things that happen that don't get logged in the box score were things Duncan did. His passing helped the Spurs hit 3s and open driving lanes. It was his presence, and his help defensively. Duncan didn't have the highlights. But he had the impact.
-- Tim Duncan leads Spurs back to vintage success by Matt Moore
Update 5:24 p.m. ET: This pretty much sums up the end of the third quarter for the Lakers.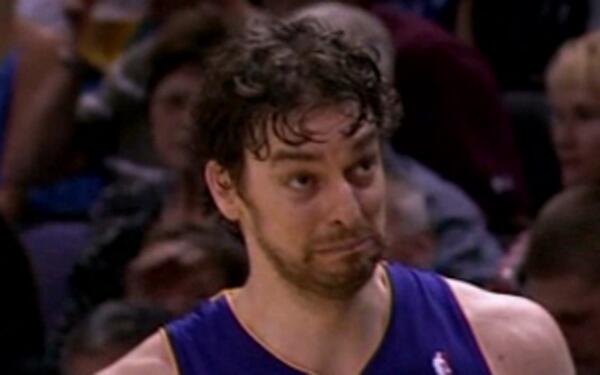 Halftime update 4:32 p.m. ET: The Spurs lead 45-37, and really, should be mad at themselves it's not more. The Lakers are horribly out of sync, struggling to find a rhythm on the offensive end.
What the Lakers have working is the high-low with Pau Gasol and Dwight Howard, who have hooked up on a couple lobs. Gasol has six points, 10 rebounds and six assists at the break, with Howard leading the Lakers with 14 points and seven rebounds.
Steve Nash played 13 minutes in the first half scoring six points with an assist. He didn't seem limited, but definitely isn't 100 percent.
The Spurs are relying heavily on Tim Duncan who has 13 at halftime, while Tony Parker is struggling again, hitting only three of his 12 first half shots. San Antonio seems to be on the verge of a 10-2 run to really open things up, but they can't get the 3 to fall consistently and the Lakers are just hanging around. With Gasol dealing, the Lakers could make this interesting.
Update 4:02 p.m. ET
#redmamba haha I luv that

— Kobe Bryant (@kobebryant) April 21, 2013
You can follow along to the best of Kobe's in-game tweets here.

Game 1, Update 3:42 p.m. ET
Post-game Update: Well, that's over. It honestly wasn't that bad, a pretty fast, back and forth game that featured the Pacers slowly extending their lead more and more. Hawks coach Larry Drew rode his bench players for a long stretch of the fourth, keeping Jeff Teague and Al Horford out. 
On the one hand, the bench did keep the deficit between eight and 11 points. On the other, they never closed, and if your best players can't carry you, you have to figure out how they can. You let the bench close it out in February, not April. 
Roy Hibbert was a big factor in the second half. He shot just 4 of 10 for eight points but had six offensive rebounds. The Pacers obliterated the Hawks on the boards, 29-16 in the second half. 
Paul George had a weird day, 23 points on 13 shots, 11 rebounds, 12 assists. He was great at drawing contact and getting to the line. Not so much from the field.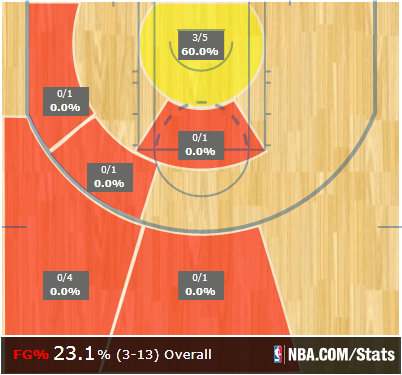 This game went about how you'd think, and if the Hawks don't come up with a lot of adjustments, it's going to be hard for them to stretch this beyond five games. I don't like overreacting to Game 1s, but the matchups look rough for Atlanta. -- Matt Moore

Game 1
Update 3:16 p.m. ET
In San Antonio for 1st rd, Pop admitted worry about Spurs slow reg season finish..''We ended it worse than I can remember..I'm concerned.''

— Bill Plaschke (@BillPlaschke) April 21, 2013
Update 2:30 p.m. The Lakers are giving old ladies clothing in San Antonio.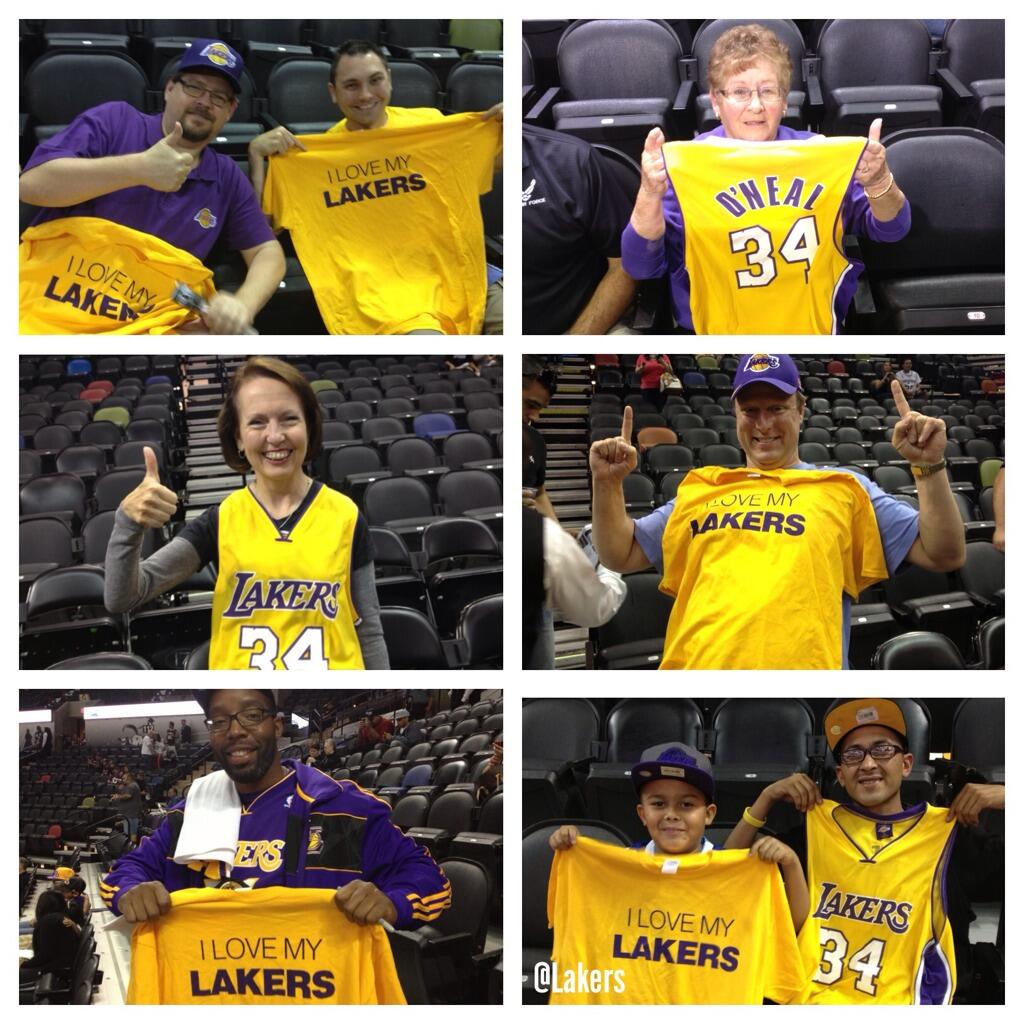 Game 1, Update 3:25 p.m. ET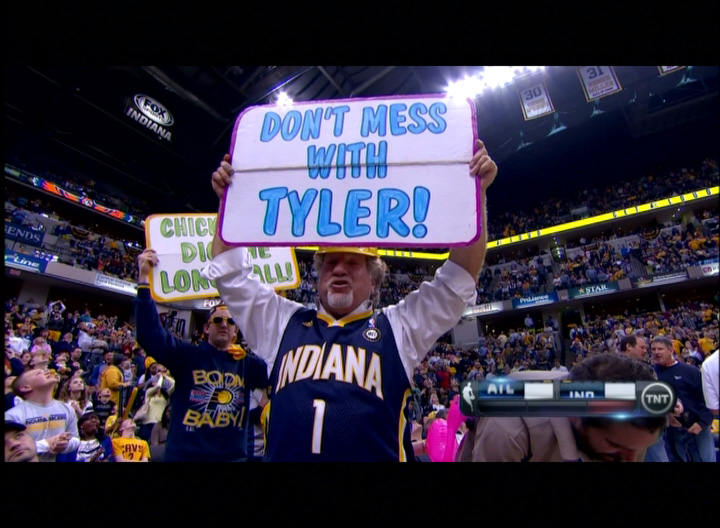 Update 3:02 p.m. ET
Noooooooot a great day for Josh Smith.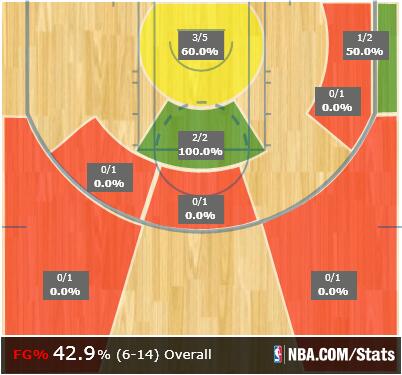 Update 2:48 p.m. ET
Hawks-Pacers, in a nutshell. 
Sick pass, Roy. Unfortunate dribbling, Roy. 

Brandon Jennings predicted a Bucks series win in six games, because he's a competitor and as Zach Harper of our team said, "No one gets to the NBA by being reasonable." But it's still something funny for people to hear considering the Bucks are a ridiculous underdog (as in, the odd are 75-1 against) vs. the Heat. TNT asked Dwyane Wade what his reaction was to the prediction. His response? 

Mike D'Antoni told reporters before Game 1 that Steve Nash will play and start for the Lakers. Nash has been out since last month with a hip and leg injury and received multiple epidurals for the pain. 

Game 1, Update 2:17 p.m. ET
Halftime Update: After a shockingly entertaining and high-scoring half, the Pacers lead 58-50. It was a fast game! Nobody saw this coming. The Pacers got big contributions from shooters, but when the Hawks settled down and started working for smarter shots, they made a comeback. Particularly, Al Horford had a massive second quarter, with a series of great plays. 
Roy Hibbert has zero rebounds, but the Pacers still have the rebounding advantage. Both teams are shooting over 50 percent. 
Update 1:44 p.m. ET
I'm from Georgia, they're from Georgia. RT @atlhawksguy: @atlhawks Whats your favorite part about playing in Atlanta?

— Atlanta Hawks (@ATLHawks) April 21, 2013
That's Zaza Pachulia on the Hawks account, which is awesome.
Random Observations: The offensively challenged Pacers put up 34 points in the first quarter and are shooting 52 percent in the 2nd quarter. They look so different when their offense isn't, you know, a dumpster fire. When Josh Smith hit his first three-pointer, you knew the Hawks were going to be in trouble with his shot selection.
The ex-Warriors assistant GM shares his philosophy on scouting and why Golden State had so...

The Suns have been doomed for awhile now it just finally came to a head this season

Andre Drummond is making his free throws now, and Pistons coach Stan Van Gundy says this is...
Carmelo Anthony touched the ball less than Raymond Felton.

Right before Wiggins hit his shot, Carmelo Anthony hit a 3 to put the Thunder in front

The Suns firing Earl Watson three games into season is second-quickest firing in NBA histo...