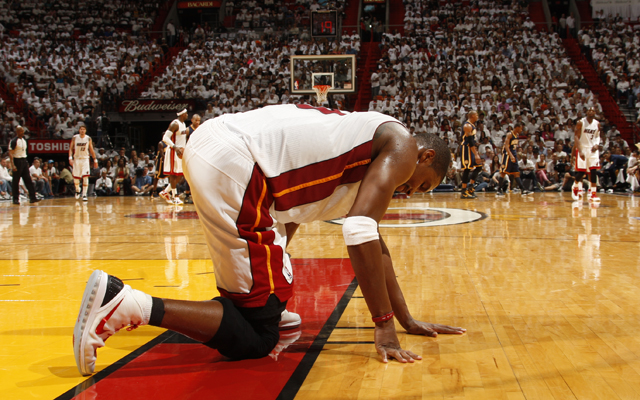 Will the Pacers be able to capitalize on Bosh's injury?
(Getty Images)
Previewing Game 2 of the
Pacers
-
Heat
Eastern Conference Semifinals. 
1. Where We're At:
Miami leads 1-0 but the series suddenly looks much different than it did before we began. Not only did the Pacers come out in Game 1 and prove that they're going to push the Heat as much as possible, but
Chris Bosh
was lost to an abdominal strain that can dramatically change this series. Game 2 in Miami serves as a "Keep calm and carry on" game for the Heat, who just need to show they can manage without Bosh for an entire game. For Indiana, it's about showing the beast is vulnerable and they're going to challenge in this series.
2. The Big Number:
12.2 percent. That's the percentage point differential in favor of Miami in Game 1 for offensive rebound percentage (percentage of available misses they reeled in). The Heat rebounded 33.3 percent of their misses in Game 1, the Pacers 21.1 percent. The Pacers grabbed 29 percent of their caroms in the regular season. Against a team they have a considerable size advantage against, that can't happen. The Pacers have to hit the offensive glass more in order to control the game.
3. Key Adjustment:
How does Miami attack
Roy Hibbert
? Hibbert had 17 and could have had more had the Pacers went to him more often. How Miami adjusts to defending him is a major concern for Miami. Hibbert tends to make quick moves when he gets the ball, sometimes too quick trying to make his move before the double comes. Miami needs to attack him on the weakside and create turnovers. If Hibbert gets going, that's big trouble.
4. The Big Story:
Bosh's injury is the biggest factor in this series and maybe the playoffs going forward for Miami. Miami has managed to skate without a real center option for two years. Without Bosh, the Heat now lack a legit starting 5 or 4.
Udonis Haslem
and
Joel Anthony
are capable role players, but without Bosh the Pacers will pound it inside to Roy Hibbert. This also means
LeBron James
is likely to play even more minutes, carry more of the scoring load, and play more time at the 4. That will open up room for
Danny Granger
. Bosh's injury changes the complexion of this series.
5. The Facts:
7 p.m. ET start time. Chris Bosh is out indefinitely with an abdominal strain. There are no other notable injuries.