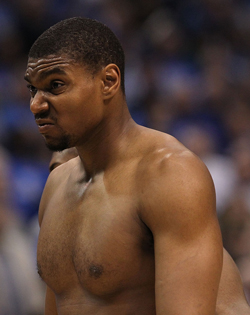 Andrew Bynum has reportedly been fined by the Lakers.
(Getty Images)
The incorrigible one just took a hit in the wallet.
All-Star center
Andrew Bynum
has reportedly been fined by the
Los Angeles Lakers
for committing "numerous infractions," according to
an ESPLA.com report
. The amount of the fine is not known but it's punishment for his recent behavior.
One of the stunts that warranted the fine from the team was Bynum blowing off a meeting with Lakers general manager Mitch Kupchak.

Bynum told ESPNLosAngeles.com he was unaware of the fine before getting into his car outside the Lakers practice facility and driving away following the team's shootaround in preparation for their game against the New Jersey Nets on Tuesday. 
It's been one act of pointless rebellion after another for Bynum.  
During a win over the Golden State Warriors last week, Bynum
hoisted a 3-pointer
and was immediately benched by Lakers coach Mike Brown. 
"I took one, I'ma take some more," Bynum said, unapologetically, after the game. He also questioned whether the shot was "bench-worthy."
Earlier this week,
Bynum told reporters
that he doesn't bother participating in Lakers huddles during games.
"I don't take part in the huddles," Bynum said. "I'm resting. Getting my Zen on."
Meanwhile, back at All-Star Weekend, in what feels like an eternity ago,
Royce Young of CBSSports.com reported
that Bynum spent a press availability complaining that Brown should give him the ball more.
"Crunch-time has been tough for us," Bynum said at the time. "Because we're not moving the ball, not playing the same style of basketball that got us where we were at. And really, that has a lot to do with the coaches and just kind of getting people in the spots that are going to make them successful...If I'm doing good things with my touches, I just have to get the ball."
Bynum's battles with immaturity are a mile long.  He began the season suspended for
a dirty hit
on J.J. Barea during last year's playoffs and he has
a lengthy list of traffic violations
.
Bynum, 24, is averaging 17.9 points, 11.9 rebounds, 2.0 blocks and 1.5 assists per game this season.
Bynum's 2011-2012 salary is $14.9 million,
according to StoryTellersContracts.com
.