Report: LeBron James 'very likely' to stay with Heat
LeBron James has said publicly that he has to discuss his options with his team, but he reportedly is most likely to stay where he is.
• 1 min read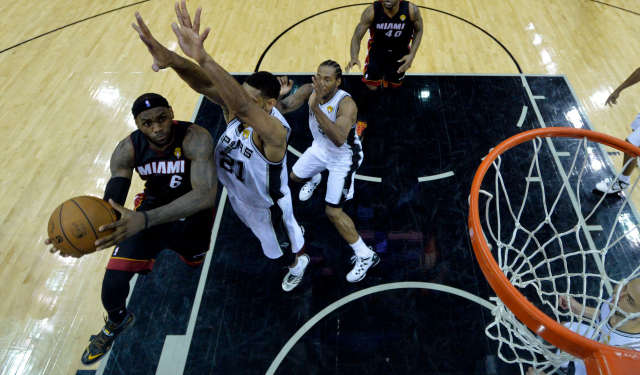 More Offseason Analysis: Coaching changes, news | Free Agency | Draft
LeBron James has made no public pronouncements about his future, but the safe bet is that he will stay with the Miami Heat next season, according to Sean Deveney of the Sporting News:
With the way the Heat played against San Antonio, the fear in Miami has been that James would bolt this summer, looking for a situation with younger stars and a deeper roster. But a source close to the situation said that, while no final decisions have been made, James "is very likely" to stay in Miami.

The source indicated that James remembers all too well the way he was pilloried for leaving Cleveland four years ago, and that he has worked hard to rebuild his public perception. He feels the team can still win in Miami, and bolting while the team is still of championship caliber will undo the remaking of his image.
If he does decide to return to Miami, there's still the question of what kind of deal James will take. He can opt in for next season and become a free agent next summer, or he can opt out and sign a long-term deal now. "The most likely scenario is for James to opt out and re-sign on a short-term deal, probably three years with a player option after the second season," according to Deveney. The logic there is that he won't have to deal with speculation about where he's going next year, and he wouldn't be locked up too long in case the Heat are unable to surround him with the proper supporting cast. 
Given the success that James has had in Miami and the trust the franchise has built with him, it's always seemed like he'd probably stay. It's still extremely early in the process, though, and it once seemed crazy that he'd leave Cleveland. The odds say returning to the Cavaliers is an option, but the Heat are still the favorite. If he is indeed concerned about his image, that's probably the right way to look at it.
Brandon Jennings will not start off next season in the NBA

A look at the effects you might not immediately think about when you look at stars changing...

20 teams have reportedly inquired about Irving's availability, with six already making off...
A year after his own high-profile franchise switch, Kevin Durant chimes in on Kyrie Irving

Miami is on Irving's list, but this package still wouldn't be enough to get a deal done

Some teams want to fight the Warriors, others want to 'fight' for the right to draft Michael...