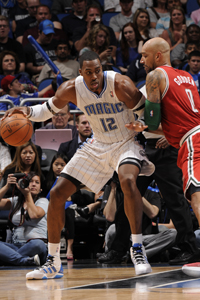 Are the Magic are hoping the Lakers get back into the Howard-drama?
(Getty Images)
As the Dwight Howard carousel goes round and round, one prominent team has found a way to keep its name out of mud. But the Los Angeles Lakers are getting dragged back into the mix.
According to Sporting News
, the Magic are waiting and hoping the Lakers re-emerge as a player to put a trade package together for Howard.
One thing the Magic are holding out for, a source told Sporting News, is the resurrection of talks with the Los Angeles Lakers. As the process has played out, it has become clear that the Magic are not going to get a better player in return for Howard than All-Star Lakers center Andrew Bynum.

Back in December, the Lakers had strong interest in Howard, but team VP Jim Buss said there was no way he would trade both Pau Gasol and Bynum to the Magic for Howard. Given Bynum's injury history, a deal in which Bynum was the main target was a longshot.
It's become painfully clear to the Magic that Bynum is almost assuredly the best player they can acquire in a Howard trade. The question is if the Magic would insist on that package including Gasol, which is something the Lakers likely wouldn't be comfortable with.
The feeling has been all along that the Lakers didn't deal Lamar Odom for nothing, and with the trade exception they acquired in the deal, it could be used to take back a contract in a deal. The Magic could get Bynum and unload one of their unfavorable contracts to open up a little cap flexibility. I'm not sure there will be a better deal on the table at any point than that.
But the Lakers love Bynum -- especially Jim Buss -- and with him having his best season yet, it's going to be hard to convince the Laker braintrust in committing to the Howard circus.
A lot is happening, a lot of calls are being made and a lot of offers are flying out there. The Magic have two options and they're simple: trade Howard, or keep him. According to multiple reports, the team hasn't even come to a conclusion on which one of those things to do, so picking a suitable trade package seems to be a stretch right now. But reality is, the Magic will be hard pressed to find a better deal than what the Lakers can offer. If the Lakers offer it.
There are two days left. After that, we'll know.