Robert Sarver on Eric Bledsoe: 'We think we gave him a fair offer'
Suns owner Robert Sarver said in a radio appearance that he'd be happy to keep negotiating with Eric Bledsoe and his agent, Rich Paul.
• 2 min read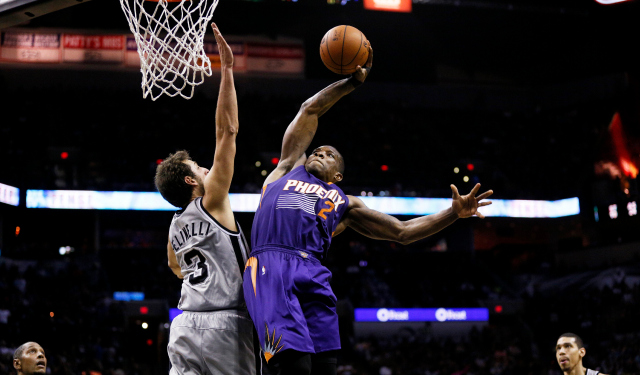 Offseason: Free Agency | Latest from Ken Berger | Rumors
Phoenix Suns owner Robert Sarver called into a local radio show to comment on Eric Bledsoe's unresolved situation in restricted free agency on Friday. The Suns have reportedly offered Bledsoe a four-year, $48 million deal, and a recent report quoted an anonymous source saying the team's relationship with the point guard was being damaged by how far apart they are in negotiations. Sarver wanted to throw cold water on that one, via Arizona Sports 98.7 FM:
"We think it's a fair offer. I think you could argue, you know, I mean some would say it's maybe a little high; some would say it's low," the owner said. "What's fair is important to us, and also important to him -- him and his agent. It's not necessarily us to determine what he thinks is fair; it's him to determine that."

…

"We think we gave him a fair offer, and (we would) be more than happy to sit down with him and continue to negotiate it. We're happy to do that," he said.

…

"I think Eric's a great guy. And he'll be happy here when he gets here, whether that's for one year or for four years or five years," he said. "I think his agent's trying to do the best job he can, too. And I have a pretty good relationship with his agent. It's just part of the process. I wish it would have been resolved earlier, but it is what it is."
Sarver said repeatedly that he wasn't concerned about the ongoing negotiations harming the relationship between the organization and Bledsoe, or the organization and his agent, Rich Paul. "What takes place before a contract is signed usually doesn't have a lot of bearing on what takes place after a contract is signed," he said. 
We've covered how restricted free agency is putting Bledsoe in a difficult position compared to some of his peers, and how Phoenix scared other teams away by promising to match any offer. While the NBA world is reeling from Paul George's injury on Friday night, that incident was also a reminder of why players and agents want to sign long-term contracts rather than gambling with short ones. Bledsoe doesn't want to sign for significantly less than what he'd get on the open market, and he'd rather not play next year on a qualifying offer, either. Sarver actually hit on that a little bit in the interview, but the fact that he understands the player's perspective doesn't mean he's going to stop using the leverage he has here.
Fergie: 'I'm a risk taker artistically, but clearly this rendition didn't strike the intended...

Victor Oladipo had a successful R&B album over the offseason and Jamie Foxx is a fan

Klay Thompson makes sure he stands out during All-Star Weekend
There's no shortage of moments to choose from

The Trail Blazers almost traded for Charles Barkley, but when they didn't, it put them in debt...

The self-proclaimed ASG snub Williams may be bitter about Butler requesting to sit out Sun...