Rumor: Could the Bobcats take Harrison Barnes at No. 2?
There's a rumor the Bobcats could be looking strongly at Harrison Barnes with the 2nd overall pick, which is a nightmare.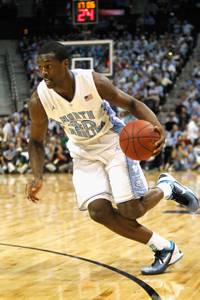 The Bobcats reportedly like Barnes. That's tricky.
(Getty Images)
It would be the quintessential
Bobcats
 pick. Taking a North Carolina player (Sean May, Raymond Felton) higher than he's expected to go after missing out on the top overall pick. But there's a report that indicates the Cats are thinking of doing just that. From ESPN.com: 
(Harrison) Barnes did struggle to create his own shot all year. He looked a step slow and clearly needs to tighten up his handle. He has lost some weight which I think has helped his explosiveness. How NBA teams use this information in conjunction with everything else will be interesting. I wonder if this will tip the scales for the Cavs at No. 4. Im also hearing rumblings that Barnes may be in the mix with the Bobcats at No. 2.
via Chat: Chat with Chad Ford - SportsNation - ESPN.

(This is me waving a gigantic flaming red flag at this.)

Barnes could very well be the surprise best player of this class. His measurements and performance at the combine prove that. The problem is that his game doesn't translate that athleticism. If he puts it together, he can be Tracy McGrady. If he doesn't, he could wind up Marvin Williams.

Do you want to draft Marvin Williams No.2? Go ask Atlanta down the road how that worked out.

For the Bobcats, this is a gamble not worth taking. The Cavaliers at No. 4? Sure. The Kings at No. 5? Absolutely. But the Bobcats cannot miss with this pick.

Let me say that again.

The Bobcats cannot miss with this pick. 

If they're going to keep it, and they should really consider trading it, they have to get an impact player. Barnes could be that guy. He could also wind up a spot-up shooter who happes to be tall and can run fast. If they whif on him, they whiff on him, and it'll be them along with the Wizards most likely. Bradley Beal is a much better option at this spot, and Michael Kidd-Gilchrist, even with his offensive challenges which leave me extremely wary of him going somewhere with no support on that end like Charlotte, is still a better fit.

But this would be the most Bobcats thing to do. So keep it in mind.  
Jordan Bell had himself a night against Portland

The younger Ball brothers are heading to BC Prienai, but that could spell trouble

Not many games, but still plenty of action and intrigue Monday in the Association
SportsLine's advanced computer model simulated Tuesday night's Lakers-Knicks game 10,000 t...

The Reno Aces are concerned about the new WNBA franchise stealing their thunder

Hinkie parted ways with the 76ers in 2016 after drastically changing the direction of the...