Sixers' Nerlens Noel says knee is 100 percent, added to vertical
Philadelphia 76ers' center Nerlens Noel spoke to the media, saying he missed his return goal but his knee is 100 percent and he's jumping higher.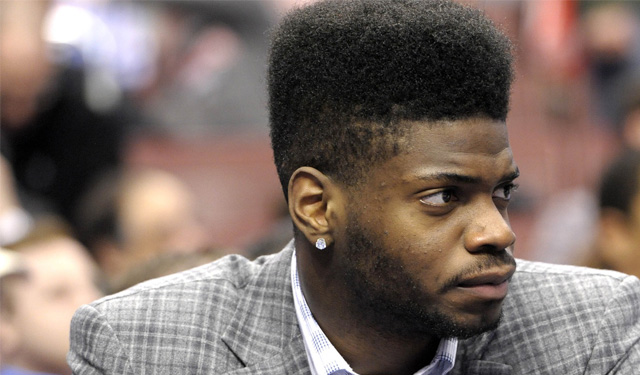 More NBA: Power Rankings | Expert Picks | Latest news & notes
As soon as Nerlens Noel received the news he had torn his ACL in his one-and-done year at Kentucky, we started wondering if he'd be able to play during his first year after being drafted. While the injury may have affected his draft stock a bit, he was still selected by the New Orleans Pelicans with the sixth pick in the 2013 draft and then shipped to the Philadelphia 76ers in a trade for Jrue Holiday. The Sixers' plan was to rebuild but they had to wait for Noel to rebuild his knee before he could return.
With just a few games left in the 2013-14 season, Noel hasn't seen a second in uniform for the Sixers, but he did tell reporters on Tuesday his knee is 100 percent and he's even added three inches to his vertical leap, which wasn't there before the injury. While Noel seems itching to make his debut in the NBA, he knows patience with his career and the franchise is the best call. From ESPN:
Noel was cleared for "limited on-court work" in January, but Philadelphia at the time said he still needed to meet "several benchmarks" in order to play for the team "to ensure a long, productive NBA career."

On Tuesday, Noel deemed his knee "100 percent," saying he's gained over 3 inches on his vertical leap since before the surgery and overall is "stronger and moving around well." He's also overhauled his shot with the help of 76ers coach Brett Brown

"I am very encouraged," Noel said. "Through the past year since I had my injury, I have pushed myself through thick and thin and I've had some struggles and I've just stayed with it.
The Sixers have five games left in the season with four of them coming on the road. It's possible Noel could finally get the nod to play, but there wouldn't be much upside aside from allowing him to make his NBA debut and giving the fans a bit of new excitement at the end of a dreadful season. Noel admitted to a cryptic "4-4-14" tweet he had back in March, that he says was his target return date.
However, he never made the necessary progress to be cleared by that date. The Sixers could head into next season with a couple of prized rookies if Noel doesn't play in the next five games. 
The former Clipper apparently had some tricks up his sleeve after a chippy game

The Rockets were apparently looking for Austin Rivers and Blake Griffin after a chippy gam...

If they don't meet in the Finals again, let's appreciate every one of the 27 matchups since...
D-Wade picked up the steal and got creative on the fast break as the Cavs headed into half...

Despite the embarrassing hiccup, the youngest Ball had himself a pretty great day on the c...

The players were both ejected in the closing seconds, then continued their discussion off the...