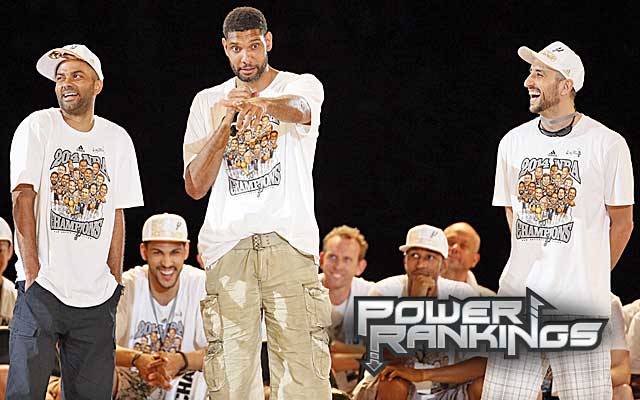 Offseason: Free Agency | Latest from Ken Berger | Rumors
There are three more major dramas to unfold in this NBA offseason: the Eric Bledsoe situation in Phoenix (with Bledsoe chafing at how the Suns have treated him as a restricted free agent), the Greg Monroe situation (which makes the Bledsoe situation seem like a lover's tiff over who forgot to load the dishwasher) and the Kevin Love trade.
Those are three pretty big dominoes, and when reading these rankings, take them with a huge pile of asterisks in regard to those three situations being up in the air.
But also consider that many teams won't be affected by what happens. Yes, any one of those players could be involved in a sign-and-trade that could have major unforeseen effects, but our top team, San Antonio? It's not like the Spurs are going anywhere based on whatever happens with those three stars.
Or even the Wizards. Washington knows what it's doing next season and has locked up its cap space. It won't move up or down based on any of those developments. And the Pistons could trade Monroe and the rest of their starting five for 50 cents on the dollar and still have a better team than Philadelphia.
So with that, enjoy this "mostly complete" edition of the NBA Power Rankings. It's like that IKEA bookshelf you put together and then realized you've got three bolts left over. Oh, well. Load it up.