Somehow, World Peace returning to New York was inevitable
Metta World Peace, aka Ron Artest, has returned to New York on a two-year deal with the Knicks, another chapter in his basketball journey that somehow feels just right.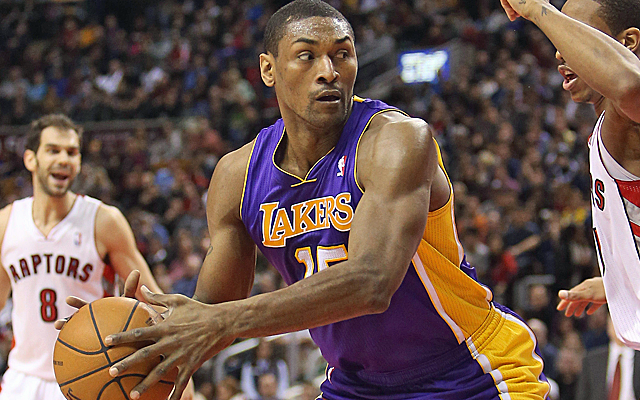 In some ways, Ron Artest winding up with the Knicks was inevitable. It's been inevitable for 14 years.
Artest is one of the few success stories of the past two decades when it comes to New York City-raised basketball players becoming NBA All-Stars. Back in the day, there were Kareem Abdul-Jabbar (i.e. Lew Alcindor), Dr. J (i.e. Julius Erving) and, in more recent times, there were Rod Strickland, Mark Jackson, Stephon Marbury and Artest (i.e. Metta World Peace).
World Peace finally comes home with the two-year, approximately $3.2 million deal he agreed to with the Knicks on Monday -- albeit 14 years behind schedule. Somehow, it feels just right.
It's an odd bit of vindication for the Knicks' ill-fated decision to select Frederic Weis with the 15th pick in the 1999 draft when Artest, a star at St. John's, was sitting right there for the taking. Artest went to the Bulls with the 16th pick, and his career proceeded to follow a circuitous and somewhat Sisyphean path -- from Chicago, where he later admitted to drinking alcohol before games; to Indiana, where he was infamously banned for 73 games for his role in the 2004 brawl at the Palace of Auburn Hills; to Sacramento and Houston, where he had his ups and downs; and finally, to the Lakers, whose 2010 championship would not have been possible without Artest's heroic, buzzer-beating basket in Game 5 of the Western Conference finals against the Suns.
That moment in Artest's career was so very Artest, as I wrote here at the time.
And in many ways, so is this moment. If you're even asking whether World Peace -- 33 years old now and, despite his frequent antics on Twitter, much wiser for it -- is a worthy recipient of the $1.6 million per year that was left of the Knicks' taxpayer mid-level exception (the other half of which went to Pablo Prigioni), then you need to take a break from watching Summer League basketball. If you're fretting about whether World Peace will behave himself in his hometown -- playing in Madison Square Garden, a world away from the projects of his native Queensbridge -- then you're guilty of allowing skepticism spoil a good story.
Frankly, all I'm wondering is whether returning to New York will compel World Peace to keep his fake name or go back to being Ron Artest. In the years since he legally changed his name, he frequently said to his friends in the New York media that they could still call him Ron.
Whatever he calls himself, I plan to simply enjoy watching one of the few fascinating showmen and old-school competitors left in the NBA play basketball in his hometown. I plan to be entertained on a daily basis by World Peace's hijinx, but even more so, by his professional approach to competing. His skills aren't anything close to what they were, but his ruthlessness and basketball knowledge are two things the Knicks sorely need -- and they will get all of it, the whole bizarre package, for barely more than the veteran's minimum.
There's nothing not to like here.
Lost in World Peace's goofiness and showmanship is the fact that he became, in the past few years with the Lakers, a respected competitor and locker-room leader. (Kobe Bryant and Pau Gasol, two champions, badly wanted him back in LA.) But he's become much more in the years since his meandering career led him from the St. John's campus on Union Turnpike to points all over the NBA map. 
Ron Artest doesn't just come home. He comes home a champion. Whatever name he goes by and however this works out, that can never be taken away.
If nothing else, prepare to be entertained.
The Blazers guard was a guest on the Sirius XM radio show 'Sway in the Morning'

L.A. reached a three-year jersey ad patch deal with Wish, a San Francisco-based e-commerce...

John Paxson doesn't intend to buy Wade out without some sort of compromise from the 3-time...
Lonzo's signature shoes have a sleek, all-black design and will be available in November

Durant recently apologized for tweets criticizing the Thunder and Billy Donovan

Jackson says he has 'no respect' for Durant after KD created fake Twitter pages