Steve Nash named GM of Canada Basketball
Phoenix Suns point guard Steve Nash has been named the general manager of Canada Basketball.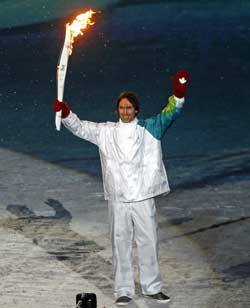 Steve Nash has been named GM of Canada Basketball.
(Getty Images)
A national hero has been named to a national post.
Canada Basketball announced on Tuesday that Phoenix
Suns
guard
Steve Nash
has been named general manager of the organization's senior men's national team, even with no end in sight to his own
NBA
career.
Nash, 38, was born in South Africa but moved to Canada shortly thereafter. He captained the Canadian national team at the 2000 Sydney Olympics and during qualifying for the 2004 Olympics.
CBC.CA reports
that Nash is ecstatic at the thought of his new job.
"This program has meant so much to me," Nash told an afternoon news conference at Air Canada Centre. "I owe a lot of my development to the program and feel that the success I've had in my career is in large part due to my time with the national team."

"Playing for Canada at the Olympics was the greatest experience of my career, bar-none," he said. "It's no secret what this country means to me and to be a part of Canada Basketball again is a huge honour and pleasure. Now the work starts."
Nash is set to become an unrestricted free agent this summer after spending the past eight seasons with the Suns and has no plans to retire. 
He admitted to ESPN.com
that his player/executive dual roles is "a little bit odd."
"Maybe the timing of this will seem a little bit odd because I'm still playing (in the NBA), but this is about trying to impact a bunch of kids, trying to be a good resource and a source of some good. We have a lot of developing talent in our country and I'm excited to help them," Nash said.
The Vancouver Sun reports
that Canada Basketball also announced on Tuesday that Rowan Barrett has been hired as the program's assistant GM. Barrett was a teammates of Nash's on the 2000 Canadian Olympics team and played professionally in Europe and South America. He previously worked as Canada Basketball's Director of Youth Development.
An immediate order of business for Nash and Barrett: Canada Basketball currently does not have a head coach, as former coach Leo Rautins
resigned in September 2011
.
Nash is a two-time NBA MVP, eight-time All-Star, seven-time All-NBA selection and has led been the NBA's assists per game leader five times. During 16 seasons with the Suns and Dallas Mavericks, Nash has posted career averages of 14.5 points, 8.6 assists and 3.0 rebounds pre game.
Irving isn't only switching teams, but also numbers

Irving made it clear he wanted to start camp on a different team, and the Cavs made it hap...

James, and the other principals, will be judged by what come's next for the Cavaliers and...
A look at who came out ahead after Tuesday's megadeal swaps the point guards on the East's...

How the addition of IT changes the Cavs and where they go this summer depending on LeBron's...

Ainge said that he expects the start of Thomas' season to be delayed, but he'll be 'fine'...