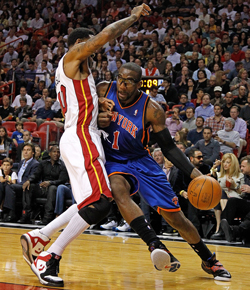 UPDATE:
Amar'e Stoudemire had an MRI Monday that revealed a bulging disk and is out indefinitely.
Jeremy Lin is also out for Monday's game with a sore knee.
---
Amar'e Stoudemire's back has been an issue in the past, but seemed to be something the New York forward was over. Unfortunately for both him and the Knicks, it showing its ugly face again.
According to The Record
, Stoudemire didn't show up for Monday morning's shootaround due to his back.
Team didn't want him to drive from the city. Which sounds like his back is not so good. Amar'e expected to get his back treated today and a game-time decision - but teammates don't sound like they expect him to play.
It's likely precautionary and just because Stoudemire's back is bothering him for a day doesn't mean it'll affect him in a month, but that's not something you want to hear. Stoudemire's back was a problem in the postseason last year and kept him from playing and playing at his top level.
But as the New York Daily News reports, Stoudemire with have an MRI on his back. With this being an injury that sidelined him for three months last year, this has to be a bit alarming.
As for Jeremy Lin, he's a game-time decision with a sore knee but did participate in Monday's shootaround.
If Stoudemire's out Monday, Josh Harrellson likely gets the start. Or possibly Steve Novak. With Jared Jeffries still out, the Knicks can't really afford many hits to their frontcourt depth at this point.
But if they're going to continue their push, they can't afford for Stoudemire to not be completely healthy.